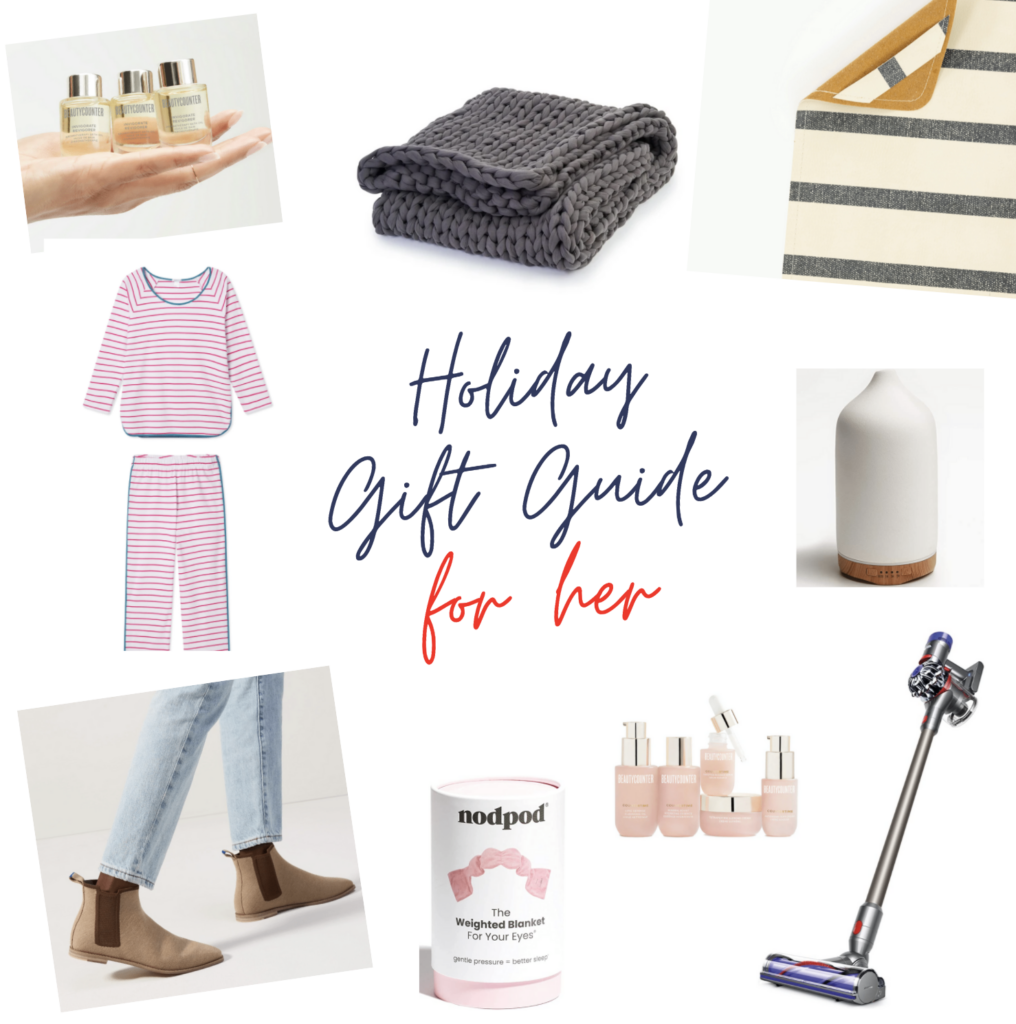 Today I'm continuing with my holiday gift guides and sharing some of MY favorite products – aka a holiday gift guide for the women in your life. I hope this serves as a helpful and useful tool as you're making your lists and checking them twice.
Knock-Off Stone Diffuser
I've had my eyes on the Vitruvi Stone Diffuser for years, and now that my diffuser finally bit the dust, I'm in the market for a new one. I just snagged this one after reading the 800+ reviews on Amazon (okay, not all of them, but you get the idea…) and I think it would be lovely as a gift when paired with a nice holiday essential oil.
ABLE Harriet Slouchy Sweater
This sweater is a new addition to my wardrobe and it's lovely + ethically made + would make a beautiful gift!
Good Scents Bath Oil Trio
I'm so excited about this little trio of bath oils – what a perfect gift when paired with some beautiful bath salts and/or a dry brush for a little spa night at home!
Bearaby Weighted Blanket
While I did have an unfortunate customer service experience last season with the Bearaby team, I am still 100% obsessed with my Bearaby weighted blanket. It's beautiful on my bed and I have never slept better without getting hot.
Rothy's Shoes
I LOVE my Rothy's – and I have a lot of pairs! They hold up so well, are incredibly comfortable, are sustainably made and are machine washable. I specifically have my eye on the Merino booties next, but their lace-up sneakers are a favorite of both me and Joe. You can use this referral code for $20 off your first order!
Ugg Coquette Slipperes
Fabulous slippers that I've owned for years! I love the hard sole for letting the dog outside in the morning or grabbing the mail.
Joy Creative Shop Personalized Stationery
I love a good personalized gift. Even something at a lower price point that's personalized makes it extra special and says "I thought about you in advance and got this with you specifically in mind." I love ALL the paper products from Joy Creative Shop – the notepads are a teacher gift favorite of mine – but the personalized stationery is just so pretty, too!
Nodpod Weighted Eye Mask
I'm flat-out obsessed with this weighted eye mask. It was a Christmas gift to myself last year and I sleep so much better when I wear it. It's like a weighted blanket for your eyes.
Countertime Deluxe Mini Set
This set is so pretty and gift-able. It's Beautycounter's best-selling Countertime skincare line in glass mini bottles. I would be thrilled to get this as a gift – but it might also be one of those "treat yourself" moments.
Gathre Leather Mat
When I was gifted this a few years back, I wasn't sure where/how/when I would use it. It's basically a leather mat you can take anywhere/everywhere and over the last couple years I've taken it EVERYWHERE. It's our mat for ball games, kids activities, outdoor activities and picnics. I love this mat so much and it wipes down clean so easily!
Dyson Vacuum
Maybe this isn't a valid suggestion for a Christmas gift, but I love my cordless Dyson SO SO much that I would be trilled to get this for Christmas. It makes keeping the house clean SO easy (no cords!) and it's incredibly lightweight and easy to use.
Lake Pajamas
I've had my Lake pajamas for about a year and they are just so soft + dreamy. A total luxury purchase for sure!
Primally Pure Gua Sha Stone
This would be a fun little affordable gift to give! I love my gua sha stone and find it super relaxing to do each night. You could also pair it with a face oil for a little bit of a bigger gift. I would recommend this face oil. PS: Use the code MADISON10 for 10% off your Primally Pure order.