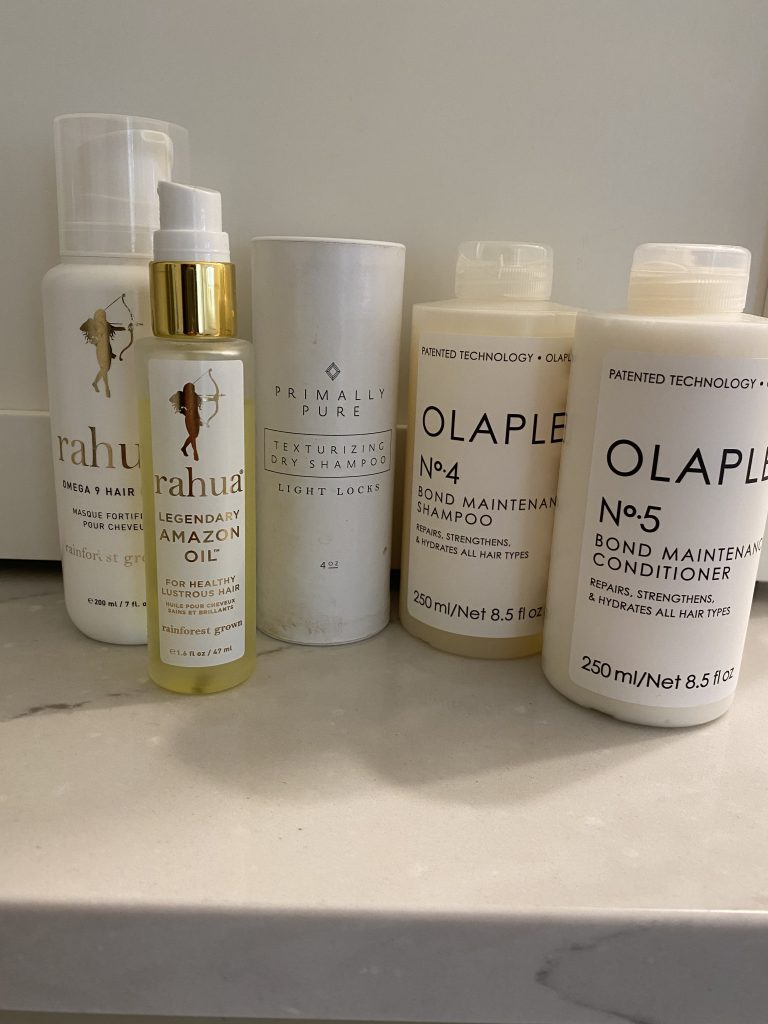 Over the years, my hair has gone through a lot! Having three babies in less than five years has kept me in a constant cycle of postpartum hair loss + hair re-growth, finally getting my hair to a good place only to start all over with another pregnancy.

One of the biggest contributing factors to helping me keep my hair feeling strong and healthy began when I ditched conventional shampoos, conditioners, dry shampoos and other styling products and swapped them out for cleaner options. What I didn't realized before making the switch was that many shampoos/conditioners/styling products make your hair temporarily FEEL healthy, shiny and strong but don't actually make your hair stronger or healthier. In fact, some of the ingredients in conventional products can actually weaken your hair structure over time and lead to damaging build-up on your scalp.

So! What products am I using and LOVING these days? Well, here's a look…

SHAMPOO + CONDITIONER
My stylist introduced me to Olaplex products and I have been LOVING their No. 4 Bond Maintenance Shampoo and No. 5 Bond Maintenance Conditioner. These two products have made a world of difference in my hair's health and appearance. The products aren't too heavy on my fine hair and allow me to go a normal number of days between washes.
For those wanting to read more about how clean Olaplex products are, you can do so here. They are rated a 4 on EWG, so not THE cleanest option around but after trying many clean shampoos and conditioners and being disappointed, I think this is the best I've found for clean AND high performing.
DRY SHAMPOO
I've been using Primally Pure's Dry Shampoo for a couple years now and continue to love it. They have a "light locks" color and a "dark locks" color. It smells great and works well, too! Without all the sketchy ingredients found in most conventional dry shampoos, it doesn't irritate my scalp or cause any build-up!
DEEP CONDITIONER/MASK
For the nights when I want to give my hair a little extra love, I use the Rahua Omega 9 Hair Mask. It doesn't leave my hair feeling heavy and does a great job of adding shine and strength to my hair.
HEAT PROTECTANT
Another product I use from Rahua is their Rahua Legendary Amazon Oil to protect my hair from heat styling. A tiny caveat: a little goes a LONG long way. Don't apply too much as you will be left with greasy hair.
SCALP SCRUB (not pictured)
I am currently waiting for another jar of this to arrive, so it's not pictured, but hands down my favorite beauty find in 2019 was this Goop G. Tox Scalp Scrub. I use it once every week or two in place of my shampoo for when my hair is feeling dull or like product is building up. My hair feels weightless and squeaky clean after. It's amazing!
So that's it! My routine these days is super simple and very basic, but I've found that the less I use on my hair and the cleaner the routine, the better my hair looks and feels.
Madison