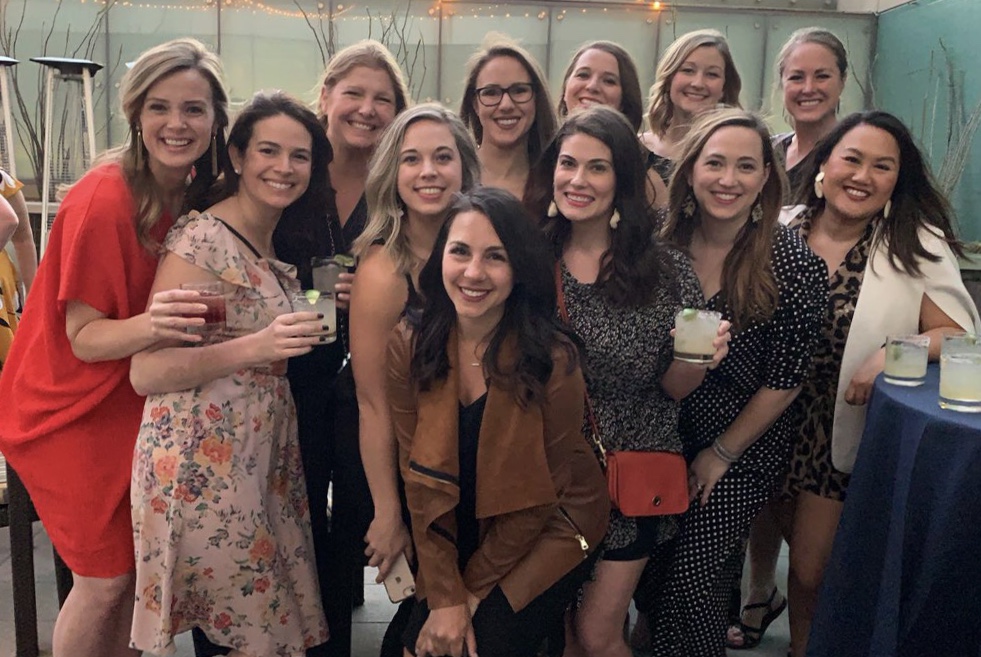 Back when I first started blogging nearly a decade ago (what?!) I had no idea that blogging was something you could make a living doing. I saw a few other bloggers at the time who blogging as a career, but the entire concept was a mystery to me. It wasn't until a few years later that I started to dream about possibly making blogging something I could do as a career, or at least part of a career, if I worked hard and stayed consistent.
While I still wouldn't say I "blog for a living" these days, blogging and this platform has been the foundation for which much of my revenue comes from as a freelancer, content creator and Beautycounter consultant. It's allowed me to share + connect with all of YOU over the last decade and continue to share content to this day. It's hands-down the best job I've ever had and although the content has changed over the years, creating content for Espresso and Cream continues to bring so much life to me.
You're probably thinking, "That's great and all, but how do you actually make money blogging?" Well, the answer for myself and for most others I know in the blogging world is complex. Because it's difficult to make enough money with any single revenue stream as a blogger, most bloggers I know make money through various different revenue streams.

(If you want a really detailed break-down of revenue streams, my friend Jess Keys (who also happens to be on my larger Beautycounter team) did a great post recently on how she makes money blogging.)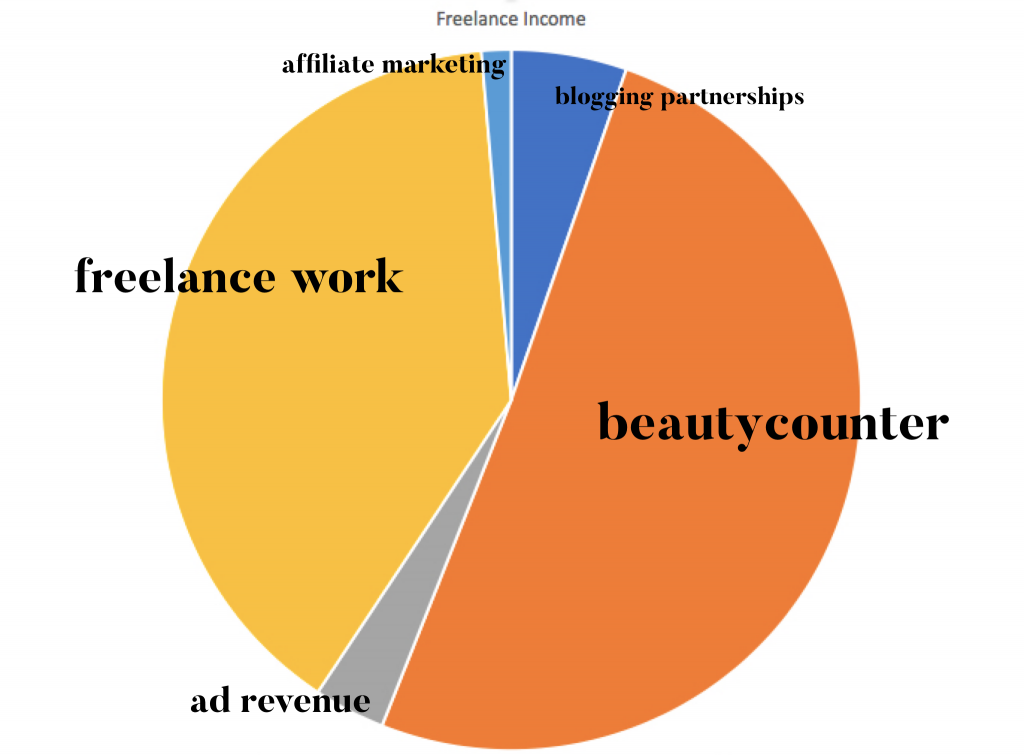 What is looks like for me has changed and evolved over the years. About two years ago, right before Collins was born, my freelance income was pacing nearly the same as my growing Beautycounter business. You can see above the breakdown of my income through the end of 2016 and where my revenue was coming from. Full disclaimer: At this point I was losing my mind trying to do ALL THE THINGS in equal measure. Freelance deadlines always looming, constantly saying YES to all the opportunities that came my way because I was afraid to say NO and lose the income potential. Figuring out how to do each thing well with a limited amount of time and childcare. I knew that something had to change for my own health and the health of my family.
What I did love about this season: The diversity of income. If you looked at my pie chart in 2018, it would include very little amounts of freelance, select blogging partnerships, increased advertising revenue and a large portion Beautycounter. Sometimes I wish I could still be as diverse in my revenue streams as I was in 2016, but in this season of life, I have such limited time and capacity to give to work (a choice I've intentionally made while our girls are little) that I've had to focus and hone in on where I'm spending that time.
So, let's do a bit of a deep dive into each of the revenue streams listed above:

Advertising Revenue //
Although advertising revenue used to be the core of the way that some bloggers made money blogging, these days the piece of the pie that traditional advertising revenue makes up is very small for most bloggers. I work with Mediavine to run advertising on Espresso and Cream which you probably have seen and noticed at the top of my site, toward the bottom and on the side bar of the site. It's not a huge amount of money, but it does add up over the course of the year.
Blogging Partnerships //
Blogging partnerships are the type of content you may see when a post is sponsored on the blog or on my Instagram. I work with The Women Bloggers for most of my blogging partnerships and work with brands individually as well. The way it works is the agency sends an email when they have a campaign they are hiring for. Bloggers review the campaign requirements and what the campaign entails and decide if they want to apply to be selected for the campaign. You'll usually have to fill out a form about the size of your readership and social following; additionally there may be restrictions as far as the store that you regularly shop at or the ages of your kiddos or the stage of life you're in. Basically the goal of these campaigns is to create natural and authentic partnerships between brands and their core customers/demographic.

Sometimes when I love a brand, I will approach them about working together, which is another super authentic way for partnerships to come about and works well for both the brand and the blogger/bloggers readers because it's so natural and authentic.
Freelance //
This category was so big for the first years of my "blogging full time" career because of the jobs I had held prior to going out on my own. I had done a lot of work in content marketing and recipe development and was able to leverage those connections to get work right out of the gate.

Let me be the first to say that I LOVE freelance writing + recipe development work and sometimes I wish I could still keep up the pace of freelance work with my other obligations. It's so energizing to me to use my professional skills and background in this way and I hope that once the girls and their baby brother are older I can take on more freelance work again.

Note that the content that I was creating in this category never saw their way to the blog. This was content that was entirely separate and usually never carried my name along with it, and if it did, it was usually a small byline.
Affiliate Marketing //
This is just a fancy way of saying that when I link to a product through something like Amazon or ShopStyle, I get a very small percentage commission on the sale should you decide you want to buy that product. It's not a large percentage and makes up a very small part of what I do, but I figure if I'm already going to recommend a product, I might as well link it. Most of the time these products I'm linking are things that I've paid for with my own money.
Beautycounter //
I save this one for last because it's not my primary revenue stream and because all of the things listed above led me to seek out something like Beautycounter in the first place. I joined Beautycounter right after making the leap to full-time freelance/blogging because I was looking to add in another revenue stream to support my somewhat unpredictable freelancing career and modest advertising revenue. I was already using the products (and had been for over a year) and figured I might as well share with you all + my in-person friends and family more about the products and company I had grown to love. Additionally, I had become increasingly convicted about the quality of the products I was using and the ingredients I was putting on my body. Beautycounter offered a solution to everything mentioned above.
So, I joined on a whim, entirely unsure of what it would hold for me and entirely blown away four years later and what it's done for my family + my business.
In addition to the heart and mission behind the products and the transparency of what Beautycounter was doing to produce safe and high performing products, I was also drawn to the way it could fit into what I was already doing online. Beautycounter was similar to the affiliate marketing opportunities I had leveraged before (where I get a small percentage commission if something is linked and someone decides to purchase with that link) but they paid a higher percentage commission, gave me the opportunity to grow and mentor a team of like-minded women, and it was a brand I could see myself partnering with and getting behind for the long haul, not just as a one-time-only thing.
Additionally, I could see how partnering with a company like Beautycounter – that I was already purchasing with my own money – would/could allow me to become even more selective with the sponsored content I took on and give me more freedom to create content here on Espresso and Cream. And, four years later, it's proven to do just that. I feel like this space has been able to become very free for me to create content that suits you all and my interests and I get to talk about ONE brand I love so very much.
PS: Regardless of if you have a blog or social following, Beautycounter is hands-down my best recommendation for making a real, substantial living from home with flexible hours and schedules. If you've been thinking of joining the Beautycounter team, I would love to talk any time! Just email me (madisonjanemayberry@gmail.com) and I'm happy to chat.
OTHER QUESTIONS
I asked on Instagram for questions and the most common question I got was how to start a blog and make money. I think that's a really loaded question. You can, of course, utilize all the tools mentioned above. But if you asked me "Should I start a blog in hopes of leaving my full time job?" My honest answer would be no.

Not that it can't be done – it can! – but for most people it takes a LOT of work for years without making much of any income before you ever start to see any tiny bit of profit. I've been doing this for a decade, and I think for the first half of that decade I worked part time hours (like many many hours outside of my full time job) and made zero money. So if you're hoping to start a blog and quickly turn a sizeable profit, I think there are much better was to do that.
In my mind, blogging has to be something you do because you love it and have an undying passion for the topic(s) you're writing about and the content you're creating, rather than hoping to make an income and using blogging as that solution, if that makes any sense.
I hope this was helpful! It's been a very long and winding road to figure out how to get to where I'm at today, and I'm so thankful that you all have continued to stay here for the ride! This work is something that I love to do and it's incredibly rewarding to get to do work that I love and make a living doing it!