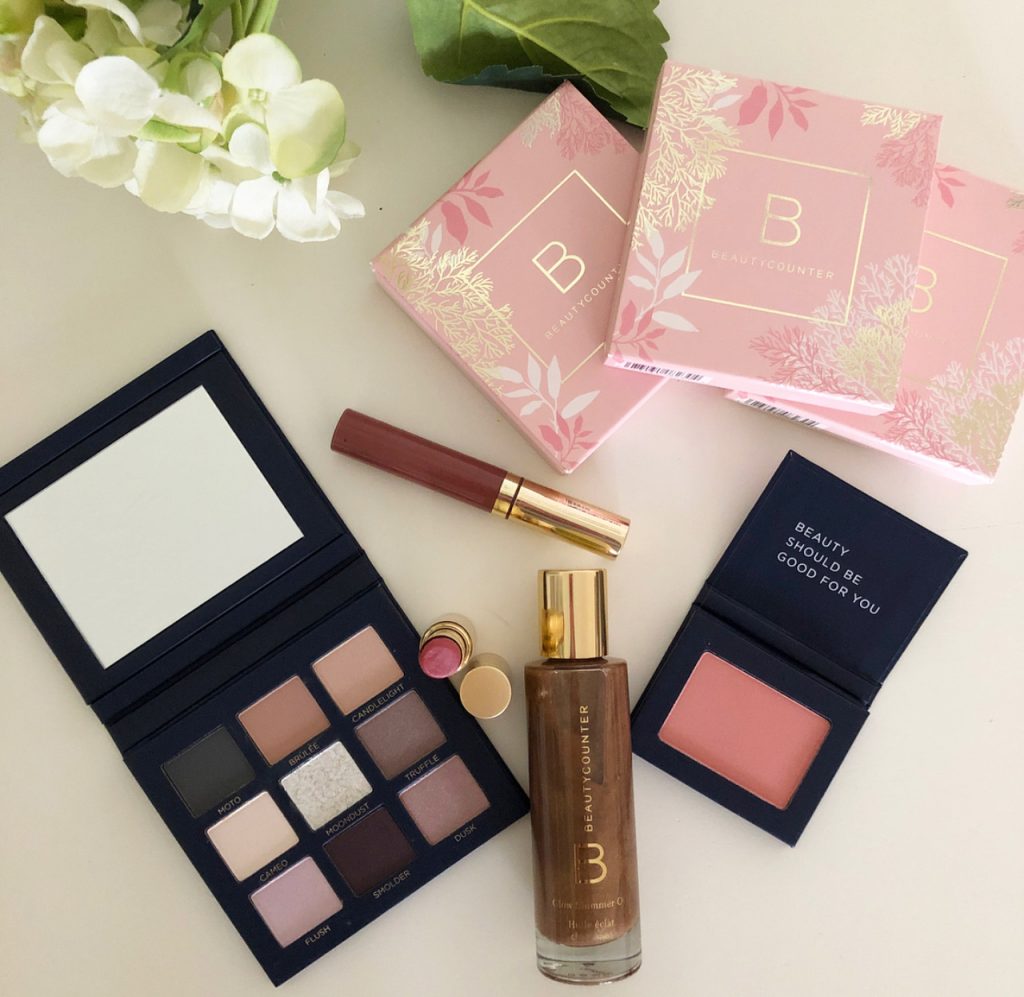 Hi Friends! I can't believe Mother's Day is right around the corner. Crazy right? I feel like it's snuck right up on me – paired with the fact that Collins's birthday is ON Mother's Day this year and we are getting ready for Iceland, I'm helping run a preschool fundraiser the six days leading up to our trip and getting ready to spend this coming weekend with my Beautycounter team leaders on our yearly incentive trip. Whew!

So, I haven't done a lot of thinking about Mother's Day. But today I'm doing a little thinking for you so you can spoil the moms/aunts/friends in your life or make a wish list for your significant other to gift TO you. These are my favorite gift-worthy Beautycounter items that feel a little more special than, say, a face wash or face lotion.
Glow Shimmer Oil //
I LOVE this shimmer oil because it makes me feel so pretty + glamorous when I use it. I've been known to be totally addicted to using this during my pregnancies in particular because there is something about a shimmery body oil that makes me feel beautiful at a time when I don't always feel beautiful. It's also a sleeper favorite because I don't think many people know about this product and others aren't likely to splurge on buying it for themselves.
Lemongrass Sugar Body Scrub //
Another pregnancy favorite – but really it's a fantastic product for any person on your gifting list. It smells amazing and works to gently exfoliate and moisturize the skin. I use it weekly!
Velvet Eyeshadow Palette //
We have this awesome nine-pan palette in three different color combos/versions but the Romantic Palette is my favorite for springtime. It's so feminine and lovely!
Lip Gloss in Rosewood //
This shade is a bit more of a statement than one of our lighter pink shades, yet still functions as the perfect neutral. I can't get enough!
Sheer Lipstick //
The sheer lipsticks are an absolute favorite of mine! I don't love an intense lip color but the sheer lipsticks are like a balm meets lip color in one. Rose, Terra, Twig and Petal are regular rotation favorites of mine! (Rose pictured in the above photo)
Satin Powder Blush //
Nectar (pictured above) is, in my opinion, the most versatile shade of blush we sell, but I also love Melon, Guava and Sorbet! Extra bonus? They last FOREVER.

PS: You have until May 2 to order any of the items listed with standard shipping in order to guarantee Mother's Day delivery!