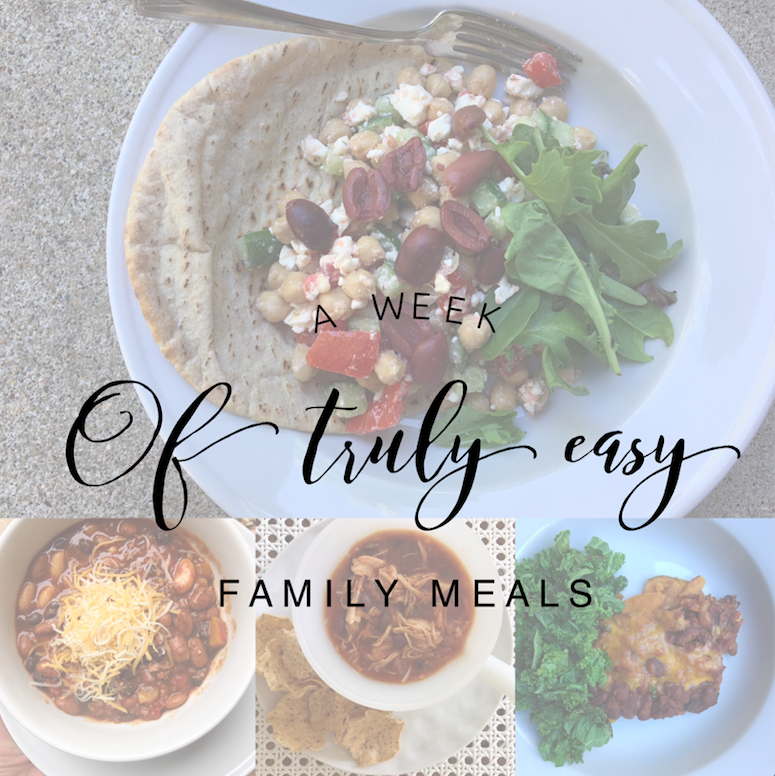 When I took to Instagram to ask what YOU wanted to see more of on Espresso and Cream the answer was very clear: More easy, healthy, weeknight family meals. I get it, because the dinnertime struggle is real, isn't it? The hours of 5-7 pm are the craziest, most stressful hours of the day, aren't they? They are also the only hours my husband gets to spend with the girls during the week before bed time, and I have been craving a solution that makes that time less stressful.
And while I would love to reach for take-out some nights, we have very few take-out options in our small town and hardly any healthy take-out so cooking at home is a necessity. I have dabbled in meal-subscription services and meal planning services in the past, but I've been really frustrated by the amount of prep the recipes required and the generally complicated nature of some of the recipes. And don't even get me started on services like Blue Apron… (so. much. chopping.)
But, if you're trying to stay on a budget, you really do need your meals to be planned cohesively so that waste is minimized throughout the week and all your food is maximized. It's great to go and pick out five yummy recipes on Pinterest, but if they aren't cohesive you could be spending a LOT of money on all sorts of different ingredients and left with a lot of leftover food at the end of the week. Been there, done that.
And then I realized something: I am the solution. Well, not the solution, but I have the background and skills as a recipe developer and food editor to create the solution I have been craving. So last week I took 20 minutes to plot out and write down recipes I was already making for my family, and finding ways to utilize one day's leftovers in a new way the next night and a really budget-friendly, EASY (truly!) meal plan was created.
So, starting next week I'm going to share an entire week's worth of easy recipes. These are the type of recipes that my family makes on the regular but I've never shared because I told myself these weren't really "recipes" and they were too simple to be blog-worthy. But that's what we all really want, right? Recipes that require very little prep and are family-friendly. Since I'm a vegetarian, there are also tips in most of the recipes on how to make the recipe veg-friendly if you're in a similar boat with both vegetarians and meat-eaters in your family.
Before I get to the meal plan itself, I wanted to share our strategy for the rest of the meals during the week aside from dinner. I usually make a large pasta bake with whole wheat pasta, ground beef, marinara and cheese on Sunday and portion it out for Joe's lunches throughout the week. He eats the same thing again and again but doesn't mind. I'll include a clementine or other piece of fruit, a homemade treat (like a cookie) and some carrot sticks. It's super easy! Since I work at home, I make a smoothie for lunch almost every day with protein + greens powder, almond milk, frozen banana, and peanut butter and Ainsley usually has leftovers, a PB&J with fruit and carrots, etc. And for breakfast we almost always have oatmeal with fruit and nut butter or eggs + toast.
I did all my grocery shopping at our local Walmart Supercenter and paid roughly $65 for all the ingredients for the meals themselves. And trust me – we had plenty of leftovers at the end of the week when it was all said and done! Enough to freeze or eat for lunch the next day. It was the first time in months that I didn't get to the end of the week and feel like my fridge was totally barren. We ate well, I was NOT stressed at dinnertime and we stayed on track with our grocery budget.
MEAL PLAN
Monday // Slow Cooker Taco Chicken
Tuesday // Easy Three Bean Chili with Beef + Kale
Wednesday // Sweet Potato Chili Bake + Kale
Thursday  // Mediterranean Chickpea Salad with Pita
Friday // BLT Salads and Homemade Bread (I love Pinch of Yum's recipe, which you should start the night before)
Saturday // Eat down the fridge leftovers!
GROCERY LIST // (for roughly 4 servings at each meal)
Produce
3 medium sweet potatoes
1 pkg. hearts of Romaine lettuce
2 bunches of kale
1 English cucumber
1 medium yellow, red, or orange sweet pepper
4 medium ripe tomatoes
1 lemon
Mixed greens (optional)
Meat
2 lbs. boneless, skinless chicken breasts
1 lb. lean (at least 80%) ground beef
12 oz. bacon
Canned
1 can (28 oz.) crushed tomatoes
2 cans (15 oz. each) chili beans in sauce
1 (16 oz.) jar salsa
1 package taco seasoning
2 (15 oz.) cans black beans
1 (15 oz.) can white beans
1 (15 oz.) can chickpeas
1 jar kalamata olives (need 1/3 cup)
Dry
1 package whole wheat/whole grain pita bread
2 bags whole grain scoop-style tortilla chips
Dairy
8 oz. feta cheese
1 (8 oz.) container sour cream
2 bags shredded Mexican blend cheese or cheddar cheese (2 cups)
Pantry Items
Olive oil or grapeseed oil
Butter
All-purpose flour
Salt and pepper
Salad dressing of your choice for BLT salad (we like poppyseed and balsamic vinaigrette mixed 50/50)
Spices (cumin, chili powder, smoked or regular paprika, onion powder, dried oregano)
Garlic (for ease, I like the pre-minced garlic in a jar)
Brown sugar
Other Items We Bought
Yogurts (Fage 2% for me, flavored Chobani for Joe and Ainsley)
1 gallon 2% milk
1 gallon unsweetened almond milk
18 eggs
Sparkling water
Applesauce pouches
Peanut butter
Whole grain bread
3 or 4 avocados
3 or 4 apples
1 package clementines
2 bunches of bananas
Frozen raspberries and/or blueberries
Rolled oats
Trail mix