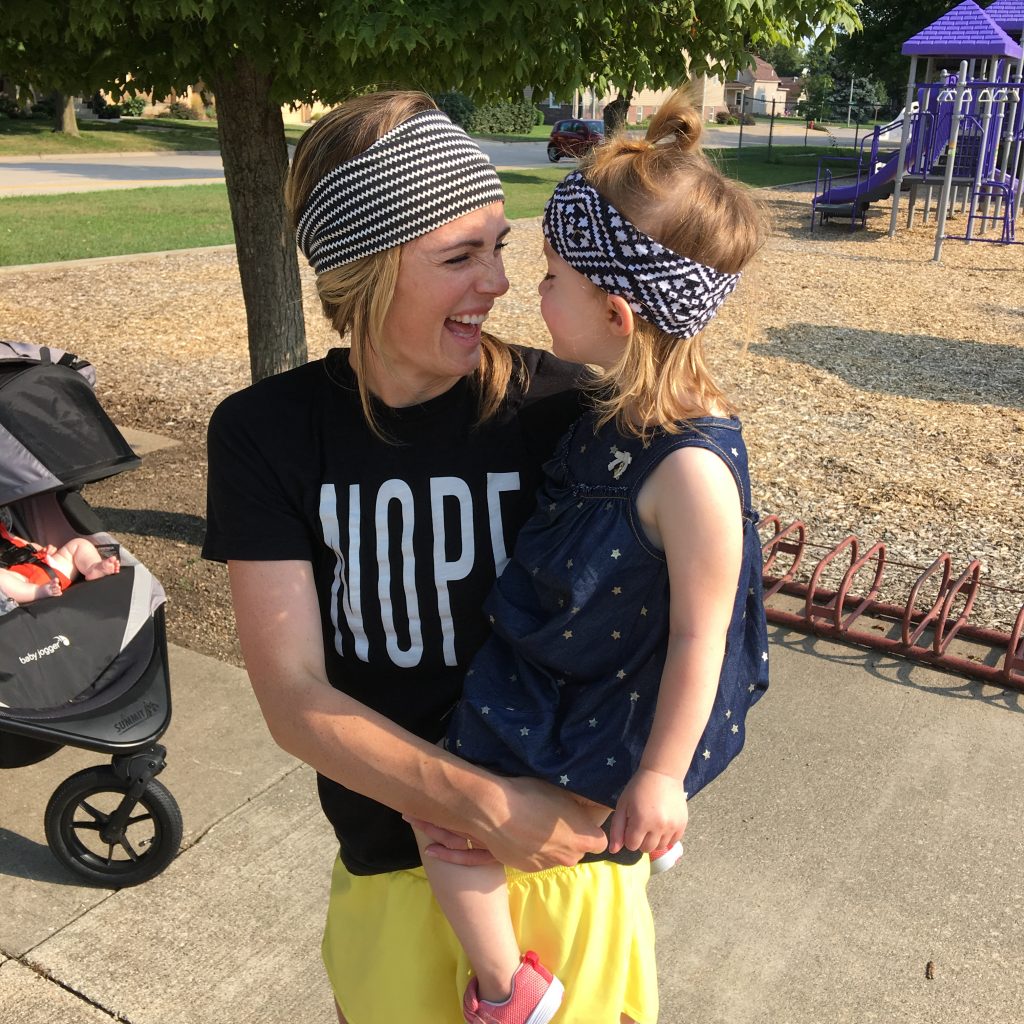 I'm back today to talk about mind and body after baby #2 at the three month mark! Collins is actually closer to four months than three months at this point, but that's close enough, right? The last post I did about the postpartum recovery period was 3-6 weeks, and a LOT has changed since then.
————————–
Mind Update ::
Let me say first that now, looking back, I can see that I was trying really hard to pull myself together during the first two months after Collins was born. Almost daily I felt as if I was floundering, stumbling, pushing through the haze day-in and day-out. I'm sure that from the outside looking in it seemed as if I had things fairly pulled together, but it was more of a struggle than I anticipated.
I remember going on multiple runs during the first few months after Collins was born, feet hitting the pavement and sun beating down on me, thinking "I'm running to hold on to my sanity and mental health." And while that may sound dramatic, those first few months I really did feel as if I was walking on eggshells, afraid that I was perilously close to postpartum depression.
During those first two months, I thought about my postpartum experience with Ainsley and remembered feeling nearly the exact same. Emotional, easily stressed, edgy, prone to crying over the smallest things. I think part of that is normal, and some of it was probably a bit more extreme than what others experience. I waffled back and forth, back and forth about weaning and did some ridiculous pumping semi-weaned thing for a couple weeks while I tried to get up the courage to just switch entirely to formula. For some reason I felt weirdly emotional about the idea of weaning. And then I remember that with Ainsley, within a week of weaning, I started to feel like myself again. The clouds and fog lifted and everything about motherhood seemed more manageable. I was able to delight in my daughter more than ever before and wasn't nearly as edgy.
So, with the encouragement of my amazing husband, I made the full switch to formula. And the same thing happened. I felt like myself again, life became more manageable, and I was able to delight in and enjoy Collins more than before. And while this is certainly NOT meant to be a debate about breast vs. formula, for me it was a wonderful decision and gave me a lot of freedom and mental clarity.
—————————-
Body/Fitness Update ::
As you probably already know if you've read my previous posts about my recovery, I've been exercising since about 3 weeks postpartum, returning to more vigorous exercise around 5/6 weeks. At this point, I've resumed all my regular workouts and activities and have been really surprised and how much my fitness level was able to be maintained while pregnant and how quickly my endurance returned to normal. This has nothing to do with weight, pant size, etc. I'm just talking fitness level and general ability. All that to say, working out during your pregnancy does make a huge difference in your recovery after!
As far as weight goes, I really have no idea how much I weigh right now. We don't have a scale and I haven't been to the doctor since my 6-week postpartum check-up, so I'm clueless until the next time I go to the doctor. I've been lifting more/heavier weight so I'm feeling like I have more muscle than I did before I got pregnant. I can tell you that while many of my favorite pre-baby clothing items fit again, my high-waisted jeans and a few pairs of shorts definitely do NOT fit right quite yet, so I'm giving myself grace and time to get back to where I want to be in that regard.
I have been running 3 or 4 miles on the weekend and doing workouts on Beachbody on Demand 4 to 5 of the other days of the week. Right now I'm working my way through my second round of the new program Shift Shop, which is a combination of cardio and strength training videos, and it's been great for keeping me motivated and engaged. Since the weather is really nice here, we've also been taking the big double stroller on long walks as a little bit of "bonus exercise."
Just the other day, I told Joe how STRONG I feel right now in my body. Am I in the best shape I've ever been? Not quite! Am I the skinniest? Heck no! But I feel fit, strong and able and that's the biggest blessing I could ask for as a busy mom of two little girls.
So that's that! My update on my postpartum experience the second time around at the 3-month mark. I'm hoping to do another update closer to 6 months, then again and 9 months and 1 year!
Madison