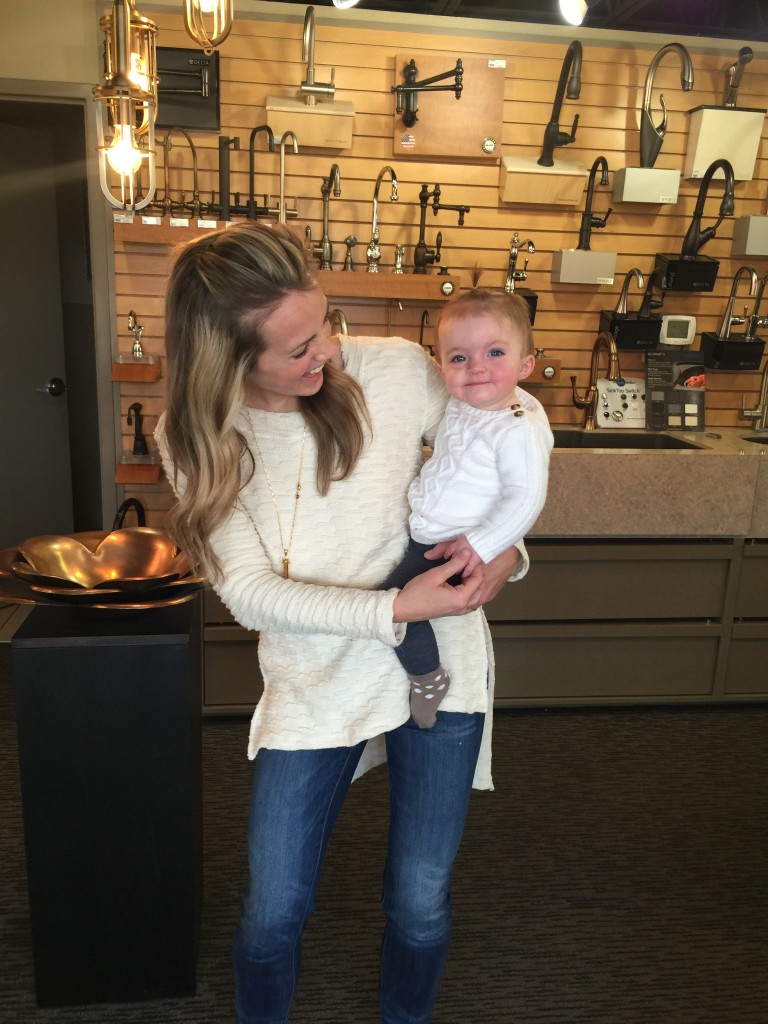 I have pretty much fallen off the monthly update bandwagon completely, but since I talk a lot about motherhood and Ainsley, I thought it was time to give a little update. Although I don't think I'll resume monthly updates, my plan is to check in from time to time with all things Ainsley.
Development
Ainsley has been doing so many new things lately! She is now confidently crawling around the house (she started crawling about a month ago) and pulling up on everything in sight. She isn't quite coordinated enough for me to leave her unsupervised and has an affinity for the corners of tables and hard surfaces, which makes her momma nervous.
She is also making a lot more noise. No words to speak of, but lots of "mama" and "dada" and "baba" without any real understanding of what she is saying. I'm trying to claim that she knows what "mama" means, but Joe strongly disagrees!
Health Concerns
I've talked a little about how Ainsley was born with a medical issue that required her to have surgery when she was 8 weeks old. Her diagnosis (which we've chosen not to disclose for Ainsley's privacy) required us to do a series of follow-up tests and exams over the first year of her life. Thankfully, everything has gone as well as we could have hoped, and it appears that aside from the surgery she had to correct her lip gap and ear tags, we don't anticipate Ainsley having any other issues! It's an extreme answer to prayers, as we went from doctor to doctor having her checked out. They said if she had not had the small gap in her lip, she would probably have never been diagnosed because she shows no other symptoms. What a blessing it is to have such a skilled and competent medical team at Children's Hospital and Clinics of Minneapolis.
Sleeping
Ainsley is doing really well. She goes to bed around 7:30 and sleeps anywhere between 10 and 12 hours with no wakings. If she wakes up after 10 hours, I'll feed her a bottle and she goes back to sleep for 2 more. Everyone in the house is feeling well-rested these days.
Eating
Ainsley is eating 4 bottles a day, usually 6 to 8 oz each. We've also started to make a more consistent effort to feed her around mealtimes, so she is eating food 3 times a day, in addition to plenty of Cheerios, which seem to be her new favorite. Bonus? They're way cheaper than the puffs we had been buying! She has decided lately that she isn't all that into baby food and would prefer to eat whatever is on our plates.
Dogs
Pippa continues to be Ainsley's favorite play toy. She pulls on Pippa's tail and covers her in drool, and we're always trying to keep Pippa from licking Ainsley's face. It's so cute to see them together and Pippa couldn't be more patient! Nutmeg, on the other hand, steers clear from Ainsley. She isn't hostile to Ainsley in any way, but since she is older you can tell she has less interest in being around a loud, grabby baby. Ainsley actually LOVES Nutmeg and gets super excited every time Nutmeg is around, which is a testament to playing "hard to get" I guess!
Mom + Dad
We are having SO much fun with this little girl. Every day seems to get better and better, and we keep talking about trying to find a way to stop time. Anyone figured that out yet? Joe and I have both had some travel on our schedules this fall. I took a girls grip to Indy two months ago, and a work trip to New York as well. Joe has traveled all over for work, so we're both getting used to spending a little time away from Ainsley. Hoping to take our first trip as a couple without baby early next year!
Madison