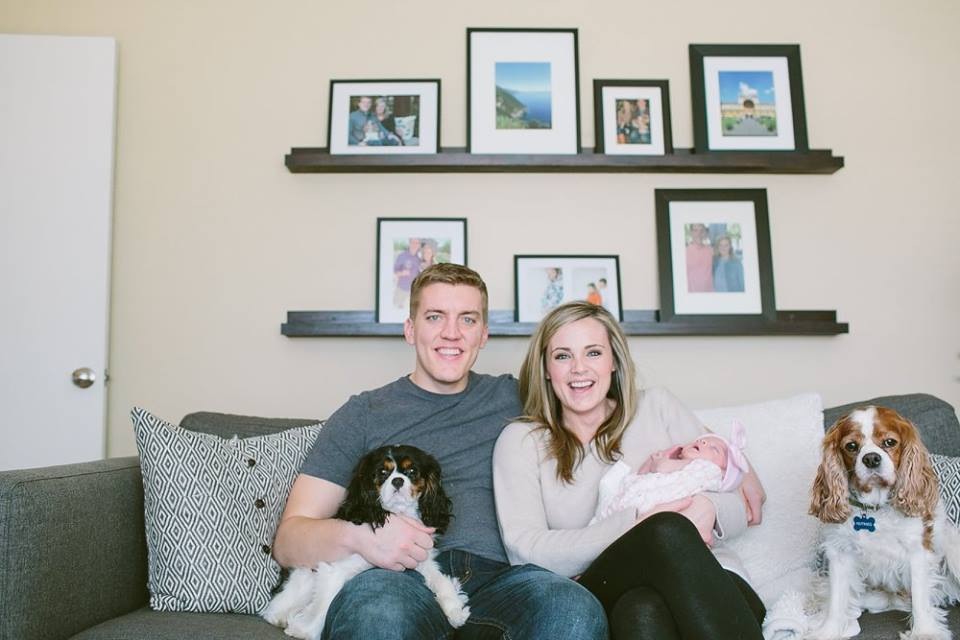 Having a baby has a way of making you seriously re-examine your budget. You start to think about the little luxuries you enjoy every day and then realize the money spend on those luxuries could (and probably should!) be going toward more important things your child's college fund. Although we felt we were in a position to have a baby, when we sat down to re-evaluate our budget post-baby, it was a big wake-up call to make some changes. We are no longer DINKS (you know, Dual Income No Kids?) and spending/living like we are is a thing of the past.
So, that said, I'm planning on doing a mini-series on the site in the coming months to examine how we're adjusting our budget for baby and cutting costs while still managing to live well. Our first target for cost savings? Our pesky and over-priced cable bill.
Yes, we finally did it, we cut the cable cord! We've been talking about cutting DirecTV for a couple years, but the sticking point for us was always ESPN. But when we realized that we were spending $115 a month on cable, something needed to change. Our solution? We signed up for SlingTV (not the same as Sling Box) through Dish Network. Sling TV can be accessed through your internet TV or an internet TV stick, like a Roku, which we got free when we pre-paid for three months of Sling TV.
You plug in your Roku, download the SlingTV app and for just $20/month you get access to streaming of about 20 popular channels, including ESPN, ESPN2, HGTV and Food Network, to name a few. We've been SO impressed with the quality of the streaming and the ease of accessing our favorite channels. Plus, I love that you can by month-by-month with the option to add additional channel packages based on interests. In the fall, I anticipate that we'll add the sports package (which includes SEC Network, ESPNU, etc.) for a couple months, which costs an additional $15/month. No matter the way you swing it, we're saving over $1,000 over the course of the year just by making the switch.
Additionally, we share an extended-family Netflix account for streaming movies and TV shows and we pay for Hulu Plus as well, which costs $8/month. And access to the basic channels like ABC, NBC and CBS? Those are free with a digital tuner!
A few notes about cutting cable:
-You need to be 100% committed to cutting the cord. When we called to cancel, DirecTV offered to reduce our bill by a paltry $10/month. But, about an hour after cancel our service we got a call from DirecTV's retention department offering to give us our current package for $60/month for 12 months, plus a $200 Visa gift card and NFL Sunday Ticket for free. Tempting, but we stuck to our guns and passed on the offer. (Hint, doing this might be a good option if you want to keep cable but are trying to reduce your budget!)
-Even with SlingTV, we're going to have to do without some luxuries like being able to record the shows we want to watch at a later time. However, most of that can be remedied by going online to Hulu Plus or Netflix and finding the show we want to watch. Not nearly as convenient but costs savings frequently mean a trade-off in convenience.
-We're hoping that by cutting cable we will spend less time watching mindless TV and more time reading, spending time with Ainsley and getting outside. We have said it's not only an investment in cost-savings but an investment in another way of living, and I like the sounds of that.
Old Budget
DirecTV $115/month
HuluPlus $8/month
TOTAL: $123/month or $1476/year
New Budget
SlingTV: $20/month
HuluPlus $8/month
TOTAL: $28/month or $336/year
TOTAL COST SAVINGS: $1140/year
I'm excited to continue this series on budgeting over the next several weeks. I have a few awesome guest-contributors who are going to weigh in on things like hair and salon visits, food and groceries and events/activities!
Madison