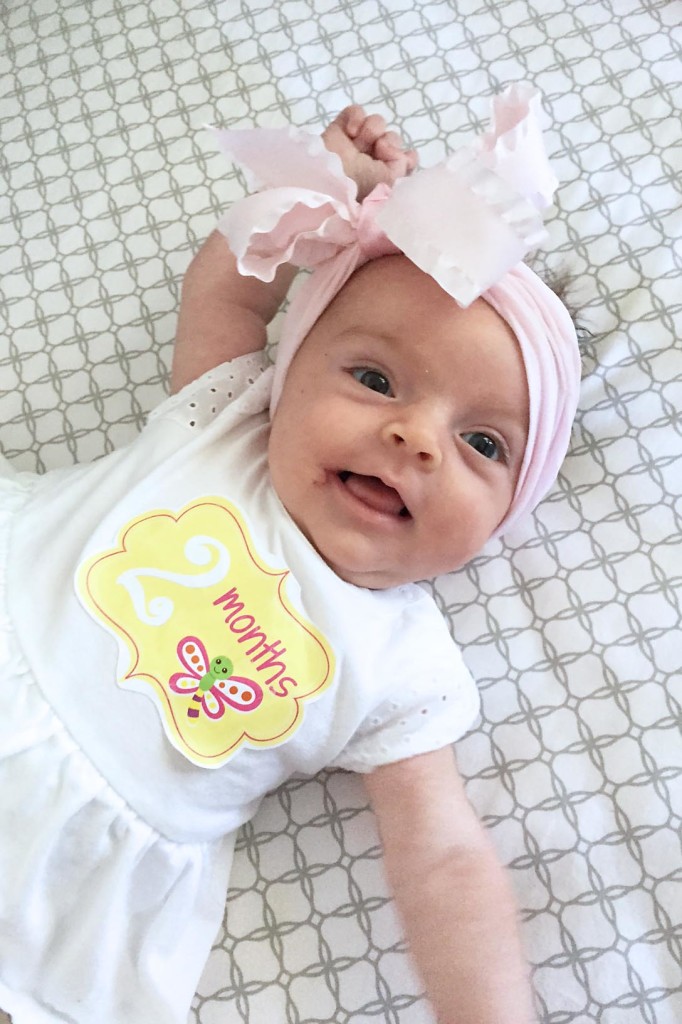 Likes and Dislikes: This month has been so much fun because her little personality is really emerging more and more every day. Joe and I say every day that she is more fun than the day before.
Ainsley Loves: having people sing to her, smiling at friends and family, eating, playing on her baby gym, playing with her daddy and practicing rolling over, hanging out in the Ergo and dancing around the house with mom while music is playing in the background.
Ainsley Dislikes: This little girl has a super short fuse when it comes to eating and we joke that she gets hangry like her momma. If you wait too long to give her a bottle she pretty much loses it and the only way to get her to take her bottle is to sing to her – strange but true. She is starting to like tummy time more, but it still isn't her favorite, and she really dislikes having her clothes changed.
Daytime Schedule: Still waking up at 6:30 each morning, give or take 1/2 an hour. We're still sticking to a 3 hour eat, play, sleep cycle during the day, but her wake times are getting longer, around an hour and a half at a time, and her naps range anywhere from 1 hour to 2 1/2 hours; her morning naps are on the shorter side and she usually takes a long nap in the early afternoon, followed by another short cat nap before bed.
Eating: Her eating hasn't changed all that much from last month. She is eating 4 to 5 ounces during the day and then takes more of a cluster feed approach closer to bed time. Once in a while she will eat a 6 ounce bottle. Lately she seems to be going through a growth spurt because she is eating much more than usual. We are still feeding primarily breast milk in bottles but have also started to introduce some formula each day, mixing it half and half with breast milk because I'm not sure how long I'll continue to pump.
Sleep: We started to have a lot of trouble with Ainsley taking forever (we're talking 1 1/2 to 2 hours) to go to bed at night, meaning most of our night consisted of putting her down, soothing her, going back in to rock her and start the process over and over again. Instead of keeping her awake until 9 or 9:30 we have started putting her to bed earlier, around 7 and it's made a huge difference. She goes to sleep at 6:30 or 7 and wakes up around 12 and then again around 3 or 3:30 with a morning wake time between 5:30 and 6:30 each morning.
Family Transition: Now that Ainsley is getting more predictable and I'm starting to understand her and her schedule a little better, it's making the transition into parenthood much easier! I am really starting to enjoy my days with Ainsley and a lot of times when Joe gets home I'll tell him how much FUN she is and how much I love being her mom. Additionally, since she is going to bed earlier and easier, it leaves a little more time for Joe and I to eat a peaceful dinner together and have some time just the two of us, which is great. It's also incredibly gratifying to walk into her room after naps and be greeted with a huge smile. Those smiles really do make it all worth it! Overall, I'm enjoying being a mommy so much more this month than last month, which was pretty rough to be really honest.
Mommy Body Update: I went in for my 6 week postpartum check up and was surprised that I'm back to my pre-pregnancy weight. Things are certainly not as toned and firm as before I got pregnant, but I'm trying to be patient and take it a day at a time. Honestly, finding time to get to the gym has been minimal, especially since I'm still battling sleep depravation, but we're going on lots of long walks and I'm doing plenty of squats and lunges in the Ergo since Ainsley loves to be worn in that thing every day. Despite the fact that I'm not in the shape I used to be, I'm really feeling better in my body than ever and have found that I care a lot less about the little vanities in life now that I'm a mom. If I'm healthy and active and eating fairly well the other little imperfections can just slide.
Resources: Still using Babywise and Moms on Call as my main resources. My mom also gifted me What to Expect: Baby's First Year, which I really love because it gives plenty of information on developmental milestones and activities to do with your baby by age.