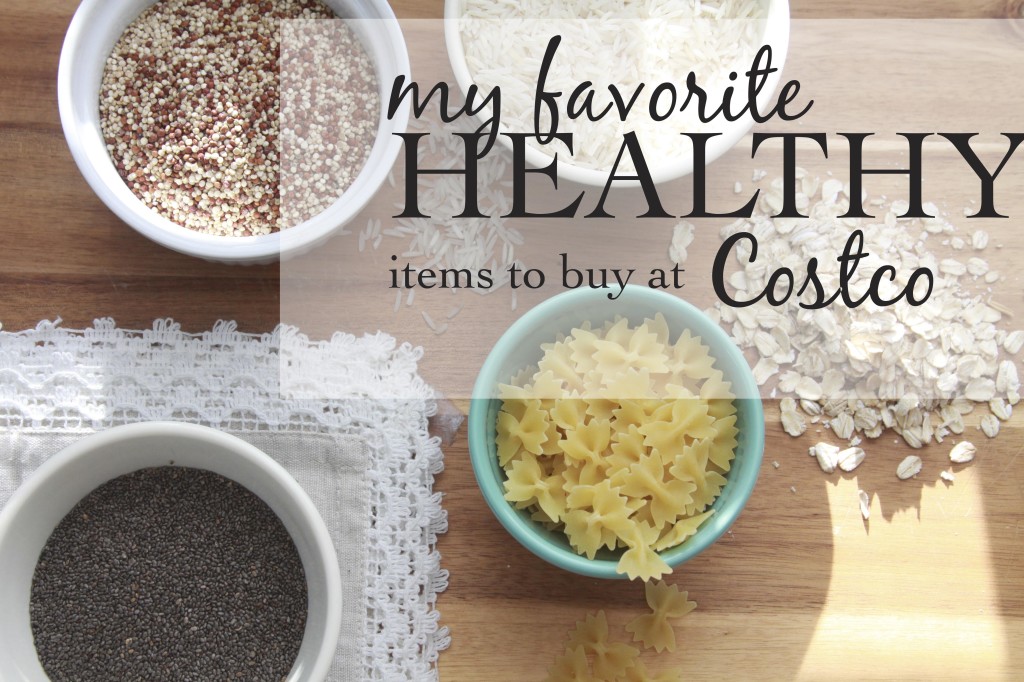 Every 3 weeks or so I make a trip to Costco to stock up on a select few products that we go through in larger quantities. Since there are only two of us, it's important that we choose wisely what we buy at Costco. That means it either needs to 1) have a long shelf life or 2) be able to be frozen and thawed. This doesn't include fresh produce, which I still purchase from time to time.
If you've ever been overwhelmed at Costco and not sure where to start, I thought I would compile a list of the healthy foods we love to buy there. Since Joe and I try to eat as much organic as makes sense financially, I've included a lot of organic items in my list. I find that Costco is one of the best places to find reasonably-priced organic food.
Dairy
–Cage-free, organic brown eggs (2 dozen)
-Organic Whole Milk (three 1/2 gallon containers that last for weeks!)
-Greek yogurt case of 15 (we usually just buy Joe's fruit-flavored Greek yogurt at Costco)
-Organic butter (It comes in a 2-pack and butter can be frozen and thawed, giving it longer shelf life)
-Almond milk
Refrigerated Misc. 
–Pre-packaged guacamole (they have a couple different types, and we go through it quick in our house!)
-Hummus (lots of varieties to choose from)
Dry Items 
–Old-Fashioned Oats (two VERY large bags, we keep the bags downstairs and refill a canister for our pantry to save space)
–Kirkland Signature Natural Creamy Peanut Butter (two very large jars, the pb only contains peanuts and salt)
–Nut'N Better Natural Almond Butter (two regular-sized jars, contains only almonds and salt)
-Organic TruRoots Quinoa (4 lb bag)
-Cinnamon (we go through a lot of cinnamon so it makes sense to buy the big Costco container)
-Chia Seeds (they usually have great prices on large bags of chia seeds)
Frozen
–Trident Seafoods Wild Alaskan Salmon Burgers (these are so easy to throw in the oven straight from frozen for a quick meal!)
-Wild alaskan salmon or other wild frozen fish filets (we rotate between salmon and halibut most times)
-Frozen organic mixed berries (a very large bag for a very reasonable price compared with traditional grocery stores)
Fresh Produce
This is a hard category because the bags of produce are very large so we sort of have to pick and choose each time we go what we're going to buy. These are just a few of our regular picks:
-Organic Hearts of Romaine Lettuce (a bag of 6 heads of lettuce)
-Berries (I always have good luck with the quality of their berries)
-Avocados (usually they come in a bag of 5 or 6 avocados)
-Broccoli florets
-Green beans (they usually come in a 2-bag pack and we go through them very fast in the summer)
Other
-Bread (I don't eat much bread, but Joe has a lot of sandwiches for lunch. We buy a 2-loaf pack and keep one in the freezer)
-Nuts (almonds, walnuts, etc. – They store well in the freezer)
-Food Should Taste Good multi-grain tortilla chips (one very large bag, we eat them with dinner and for snacking)
-Beer and wine! (Okay, not really healthy, but they do have great prices so we shop there when we have larger parties)
Are you a Costco shopper? It's one of my favorite places to stock up, but I try to avoid it at all costs during the peak weekend hours. What items would you add to this list? 
Madison