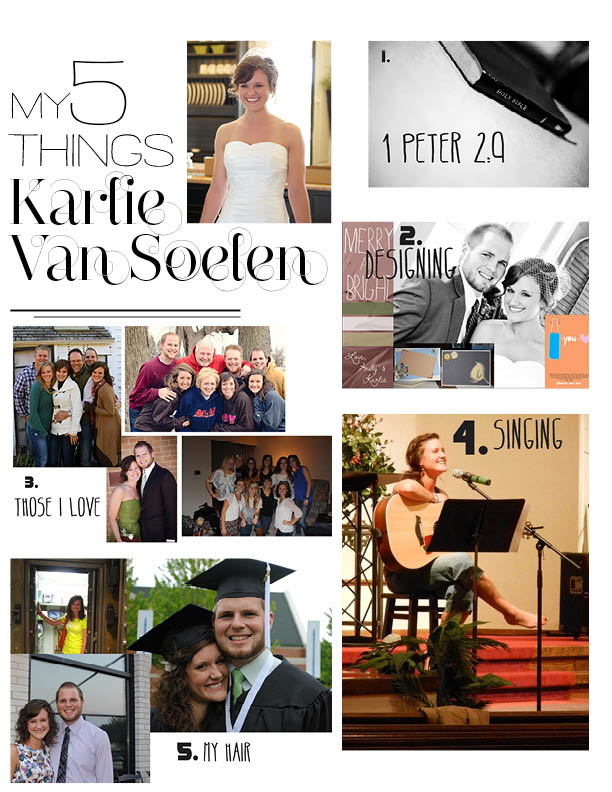 WHO: Karlie Van Soelen
WHAT: Director of Communications & Missions at Federated Fellowship Church
BLOG: http://karlievansoelen.wordpress.com/
I grew up in small town called Pella, IA, recently graduated in May, got married in June, and am the Director of Communications & Missions at Federated Fellowship Church: http://federatedfellowship.org/. I design at my job and on the side and love to sing.
1. Scripture: 1 Peter 2:9 says, "But you are a chosen people [woman], a royal priesthood [daughter], a holy nation [woman], God's special possession, that you may declare the praises of him who called you out of darkness into his wonderful light." However, when you replace the words nation with woman and people with daughter, it creates a specific message to me. To you. This scripture verse makes me feel beautiful because I know where my true identity lies. I was chosen and created for God's glory. He delights in me & that makes me feel beautiful.
2) Those I love: my husband, my family, and my friends make me feel alive, wanted, cared for, and cherished. Being around them lights up my outlook on life as they often cause me to laugh, cry, and rejoice about things in life that matter. They also love me for who I am, my mistakes, my proudest moments, and my weakest moments – yet they are the ones who still think I'm beautiful through it all.
3) Designing: Designing something makes me feel accomplished, talented, and proud – in a good way. In ways that make me strong, confident, and like I'm using what I went to school for. When I'm passionate about making something look good, the finished product is alway so fun to go back and look at again, post online, and show others. There's a huge difference between bragging about it vs. just being so passionate about a project you're just excited to share it. My goal is: "Passionate and Purposeful Communication and Design." When that phrase is accomplished, it makes me feel beautiful.
4) Singing & Leading Worship: There's something about music, a gorgeous melody, and lyrics that can make my heart leap. There's also something about singing with a purpose. I've found my purpose in the Lord, so all I want to do is sing for Him now. It's a beautiful privilege to lead others into the presence of God with singing. Hearing those around me lifting up their voices and instruments to our God makes me feel beautiful.
5) My hair: I truly love my virgin hair. It has never been dyed (except for a purple strip at the base of my hair when I was in college), it is naturally curly, and super easy to manage. Most mornings I shower and throw some mousse in it and leave with it wet. It dries right up and stays wavy/curly all day. Randomly, my hair will also straighten nicely, curl very well, and even looks pretty darn good up in a bun, a fancy up-do, or a side pony. All my life I've received compliments on my hair & when compliments are given – it gives a sense of confidence. Now that I have confidence in my hair and in who I am wholly as a daughter of the King – my hair makes me feel beautiful.
Thanks for sharing, Karlie! If you're interested in sharing your 5 things, shoot me an e-mail (madisonjanemayberry@gmail.com) for more information! -Madison