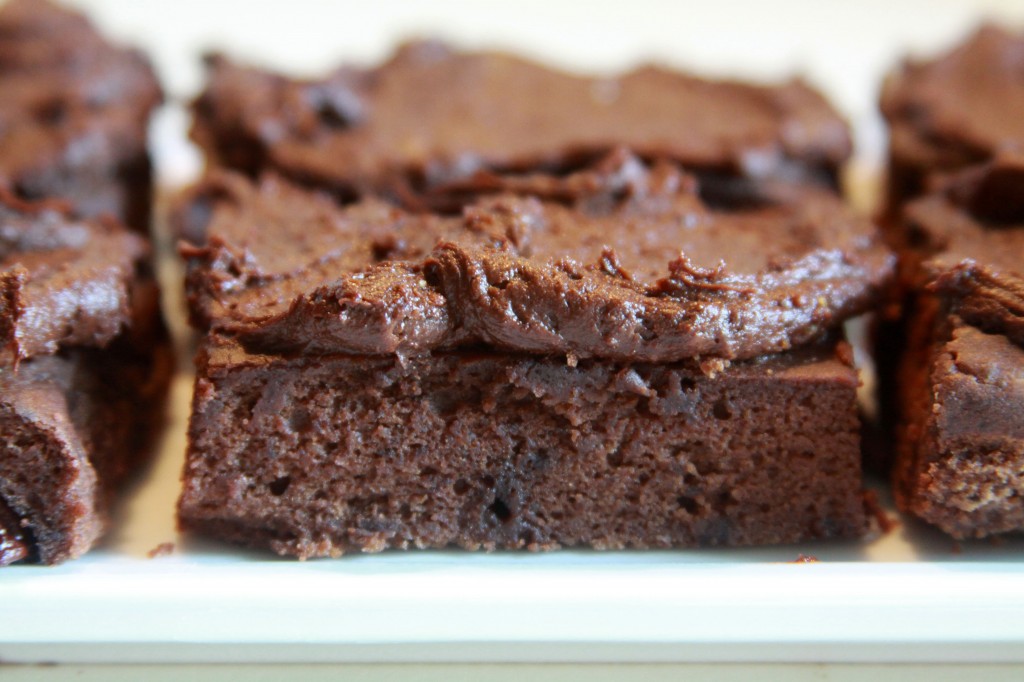 In our house after work, Joe and I have a bit of a tradition that we follow almost religiously. We get home, head to the gym for a workout, return home. Then, Joe takes Nutmeg outside while I prepare dinner. Usually, it's something ultra-simple, like burgers/veggie burgers and big salads packed with vegetables or chicken breasts, sweet potatoes and kale. Like I said, nothing fancy over at our house on the weeknights. After dinner we clear the table, load up the dishwasher and settle in to watch something on TV.
While we're watching TV, I always, always have to have some sort of dessert. And my husband, who isn't a huge sweet eater, prefers to have a beer, usually something seasonal and unique. When I really want to indulge on the weekends, I'll have an honest to goodness dessert. But since I find myself wanting dessert every single night, I try to make my weeknight selections a bit on the healthier side.
Last week, I started playing around a bit with the black bean brownies I made a few months ago. I was in love with them when I first made a batch, and I'm still in love with them now. For those of you scared to make a black bean brownie, please give them a try. The flavor of the beans is mild and will go undetected by many. If you're looking for a great recipe to try for the first time, this recipe is a great starter black bean brownie, since it has a bit more sugar than the recipe below.
Since I was going for maximum health impact with minimal sugar, I decided to cut back even more than in my previous recipe. In place of the sugar, I used cinnamon apple sauce that I made at home in the crock pot, though you could certainly use store-bought. It makes the brownies much less sweet, but when topped with the creamy chocolate frosting, you hardly notice.
And that frosting that looks decadent and unhealthy? It's made with creamy, heart-healthy avocados, which are packed with healthy fat and give the frosting incredible texture. I first saw the recipe for avocado frosting when I was reading Food Loves Writing, Shannalee's beautiful blog, and knew that I had to recreate it at home. These brownies proved to be the perfect base for this frosting, since they are very basic and benefit from the addition of a sweet, creamy topper.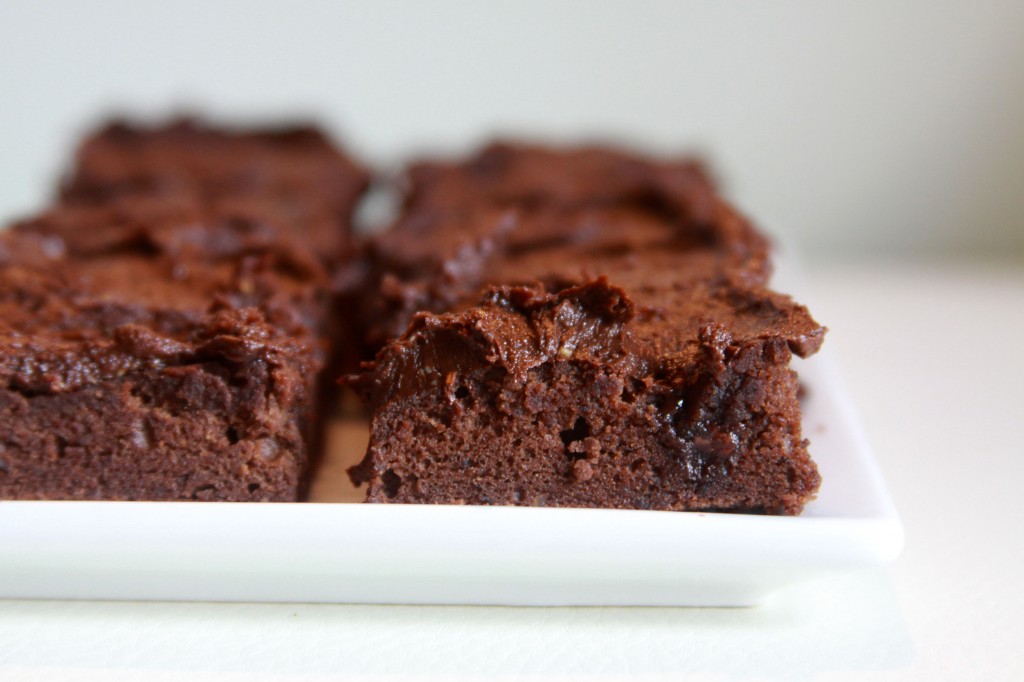 Healthy Peanut Butter Brownies with Chocolate-Avocado Frosting
Frosting recipe adapted just slightly from Food Loves Writing (recipe HERE)
Ingredients
Brownies
*3/4 cup black beans, rinsed and drained
*1/4 cup canola oil
*1/4 cup cinnamon apple sauce
*2 large eggs
*1/4 cup unsweetened cocoa powder
*1/4 cup natural peanut butter
*1 teaspoon instant coffee granules
*1 teaspoon vanilla extract
*1/3 cup whole wheat flour
*1/2 teaspoon baking powder
*1/4 cup milk chocolate chips
Frosting
Recipe just slightly adapted from Food Loves Writing (recipe HERE)
*1/2 medium ripe avocado
*4 tablespoons honey
*2 tablespoons creamy natural peanut butter
*Dash of cinnamon
*2 teaspoons vanilla extract
*1/4 cup cocoa powder
Instructions
*Preheat oven to 350°F. Line an 8×8-inch baking pan with aluminum foil. Lightly spray with nonstick cooking spray. Set aside.
*In the bowl of a food processor, combine the black beans, oil and apple sauce. Blend until very smooth. Add in the remaining ingredients, minus the chocolate chips, and process until the mixture forms a smooth batter. Stir in chocolate chips with a rubber spatula. Bake in the oven for 16 to 18 minutes, until a toothpick inserted in the center comes out clean or nearly clean. Remove from oven and cool on wire rack.
*Meanwhile, prepare the frosting. In the bowl of a food processor, combine the avocado, honey and peanut butter and blend until smooth, scraping down the sides as necessary. Make sure the mixture is completely smooth and all avocado chunks are blended. Add in the cinnamon, vanilla and cocoa powder and blend until well combined. Spoon onto cooled brownies and cut into squares. Makes 12 brownies
Happy Baking!
Madison