I'm back! I'm back! I missed blogging and being able to interact with you amazing people. Please excuse my excitement and my absence over the past four days. It turns out when you have a blog that has thousands of comments and hundreds of posts over a 3 year span, it takes a while to migrate your blog to WordPress/self hosting. Thankfully, after a few glitches and a bit of down time, my blog is up and running on the new server. And now that we've tackled that (I say "we" when I really mean my awesome web designer, Brad) the actual design process can begin shortly. If, over the next couple weeks, you notice anything wonky, please be patient. There are bound to be a few growing pains along the way, but I promise that E&C's new look is going to be beautiful!
Now for a few house cleaning items:
1. The "Clothing Charity Sale" has been pushed back to Monday, May 21st. I've had some amazing donations roll in from other readers, so be sure to spread the word! You will be able to purchase items throughout the week. The final day of the sale is Friday, May 25th.
2. Because of the site's down time, I am taking this week off from "No Fat Talk Tuesday" until next week. I have a few weeks of posts scheduled, but am in need of more people willing to share their story. If you would like to share, send me an e-mail (madisonjanemayberry@gmail.com) and I can give you more information and guidelines about posting.
3. I'm working on putting together a post on the Paleo diet/lifestyle in the upcoming weeks. If you are a nutritionist or someone who follows Paleo, I would love to hear from you! (madisonjanemayberry@gmail.com)
Now on to the fun stuff…
On Mother's Day, my mom and I hosted my aunt's and cousins over at my place for a bridal shower in honor of my cousin's fiancé, Claudia. She is from Colombia, which is where the wedding will be held this summer. Over the past year, she has been living in Iowa and attending college. I couldn't be more excited for her and for my cousin, Curtis. They make an adorable couple! Claudia told us that where she is from, bridal showers are more like wedding receptions, with both the bride-to-be and groom-to-be in attendance, with lots of dancing, gifts and food. It made me feel like our version of a bridal shower was lacking!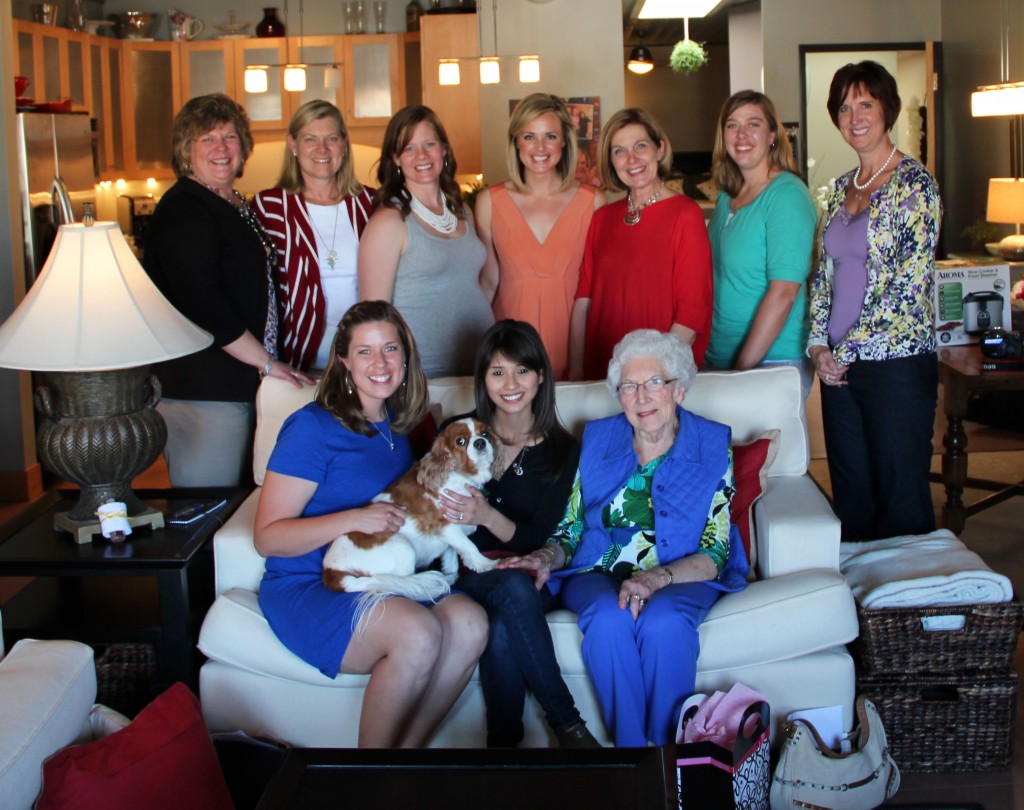 And before I leave you (but not for long this time!), I wanted to share a recipe for one of my new favorite sandwiches. Although the combination may sound a little strange, I can promise you that it's crazy good. One word to the wise: make sure your pears aren't too ripe. It's better to have pears with a little bite to them for this sandwich to prevent the bread from getting soggy. Plus, with the cheese and spinach, a little added texture makes all the difference.
Pear, Spinach and Blue Cheese Sandwich 
Ingredients
*2 slices whole wheat bread
*2 wedges Laughing Cow Blue Cheese
*1/2 medium ripe pear, thinly sliced
*1/2 cup baby spinach leaves
Instructions
*Spread each slice of bread with one of the cheese wedges. Top one slices with the pears, followed by the spinach. Top with the remaining slice of bread. Cut sandwich in half. If making this sandwich to take with you for lunch, I recommend toasting the bread before making the sandwich to avoid a soggy sandwich.
Happy Cooking!
Madison