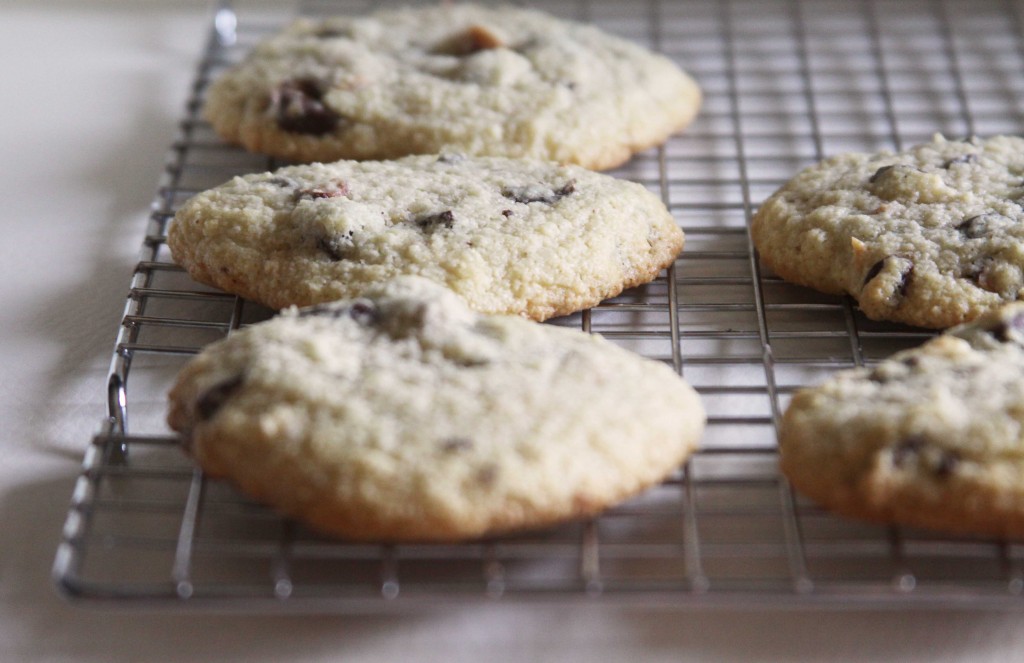 A couple weeks ago at work, the almond board of California came to talk with us at work and give us some samples of their amazing products. Did you have any idea that 80% of the almonds produced worldwide come from California? They left us each with a little swag bag, and I found myself with a large bag of almonds. Instead of eating them straight out of the bag, I decided to get a little creative with the almonds and made my own almond flour! I found a great tutorial here, and was surprised at how easy it was to make almond flour at home. Not to mention it was cheaper that buying almond flour at the store.
I didn't set out to make a Paleo-friendly recipe, but then I stumbled upon this recipe from The Wannabe Chef. Since I'm not an expert on Paleo, and not all that familiar with the rules of Paleo baking, I consulted a few friends who follow a Paleo diet. The consensus was that although this recipe does contain 1/4 cup of granulated sugar, many people would consider it acceptable to eat. However, if you are looking for a more natural, less processed sweetener for this cookie, I imagine that you could use a couple tablespoons of Stevia in place of the sugar? If someone tries the recipe with Stevia, let me know!
As is typically the case when I make a unique baked good, I had Joe sample them before telling him what was different about these chocolate chip cookies. Instead of commenting that they were different or unusual, Joe actually noted how moist and chewy the cookies were. I have to agree – I was shocked that they came together as well as they did, considering there isn't any actual flour in the recipe. And unlike other healthy cookies I've made in the past, these cookies actually tasted just as tasty on day two and three after baking.
My favorite part about these cookies is that they have a higher protein content than traditional flour-based cookies due to the use of almonds. Which means you can get away with eating two at a time, right?
Almond Flour Carob Chip Cookies
Adapted just slightly from The Wannabe Chef (recipe HERE)
Ingredients
*1 1/2 cups almond flour
*1/4 cup butter, softened
*1/4 cup sugar
*1 large egg
*1/4 teaspoon salt
*1/2 teaspoon vanilla extract
*1/2 teaspoon baking soda
*1/4 cup carob chips or chocolate chips
Instructions
*Preheat oven to 375°F. Line a baking sheet with parchment paper or a nonstick baking mat (Silpat.)
*With an electric mixer, cream together the butter and sugar. Beat in the egg, followed by the salt, vanilla and baking soda. Stir in the almond flour until just combined. The dough will be soft.
*Drop dough by rounded tablespoons onto the prepared baking sheet, about 2-inches apart. Bake for 10 to 12 minutes. Cookies should be just slightly browned around the edges. Cook for 10 minutes on the baking sheet. Transfer to a wire rack to cool completely. Enjoy!
Happy Baking!
Madison