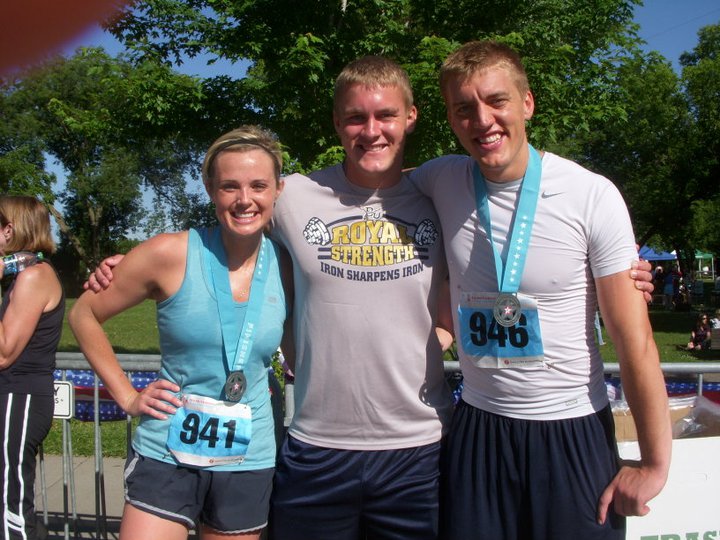 Last year, after Joe and I ran our first half marathon, I talked a bit about a crazy idea I had to run 30 races by the time I turned 30. Considering I only started running races last year (at age 23) I've got a lot of races to run in order to meet my goal!
Even if I don't end up hitting the 30 by 30 mark, I'm going to have fun trying. I'm hoping to add a couple more short (5k or 10k) local races to this list throughout the summer and fall. And, if I stay healthy and all goes as planned, my mom and I will be running the Twin Cities Marathon two days after my birthday in October!
I still feel a little hesitant even putting that goal out there for all of you to read, but running a marathon has been a goal of mine for the longest time. Both my parents are marathon runners, and a big part of me wants to carry on the family tradition. Plus, it seems like a great time in life to train, since I don't have any major obligations on my plate.
Here's a look at the other races I have planned:
Orange City Tulip Festival 5k
Orange City, Iowa 
Saturday, May 19th
Dam to Dam 20k
Des Moines, Iowa 
Saturday, June 2nd
Grinnell Games 5k
Grinnell, Iowa
Saturday, June 9th 
Grandma's Half Marathon (with my sister-in-law, Amber)
Duluth, MN
Saturday, June 16th
Twin Cities Marathon
Minneapolis/St. Paul, Minnesota
Sunday, October 7th 
Do any of you have races planned for this summer or fall? Is running a marathon a crazy bad or crazy good idea? Help a girl out!