Last week when I posted a picture of the tofu I had in my lunch from dinner the night before, I got a lot of requests for the recipe. Honestly, I haven't had much success preparing tofu at home in the past. Usually it ends up getting stuck to the skillet or ends up tasting soggy and tasteless. Unless, of course, you cover it in a bunch of browned butter or calorie-dense sauce, but I guess that really negates the benefit of heating tofu for a healthy meal, doesn't it?
Instead of sticking to what wasn't working, I mixed things up. After consulting a few online sources, I realized that my main problem with making tofu in the past was that I wasn't buying the right type of tofu, and even when I was, I had no idea how to prep it for cooking. 
First, the type of tofu you buy is key. For dishes like this one, you're looking for firm or extra firm tofu that is packed in water. Don't make the mistake of buying silken tofu, which works great in smoothies and healthy desserts but will not make a tasty addition to this dish.
Second, you need to drain some of the water from the tofu in order for it to become firm and crispy in the oven. To do this, line a dinner plate with a couple paper towels. Place the tofu block atop the paper towels and top with a couple more paper towels. Place another dinner plate atop the tofu, followed by a couple heavy cookbooks for weight. This will help drain some of the water and moisture from the tofu. Allow the tofu to drain for about 20 minutes.
My other complaint about tofu? The taste and texture. Coating the tofu in a spiced cornmeal mixture and baking the triangles in the oven was the perfect remedy to both of my complaints. The cornmeal imparted a slightly nutty, crunchy texture to otherwise soft and mushy tofu, and adding a handful of spices made all the difference in the flavor department. If you're really a fan of bold flavor, I wouldn't hesitate to boost the spice level a bit more to suit your tastes.
Do you all eat tofu? If so, what's your favorite way to eat and prepare it?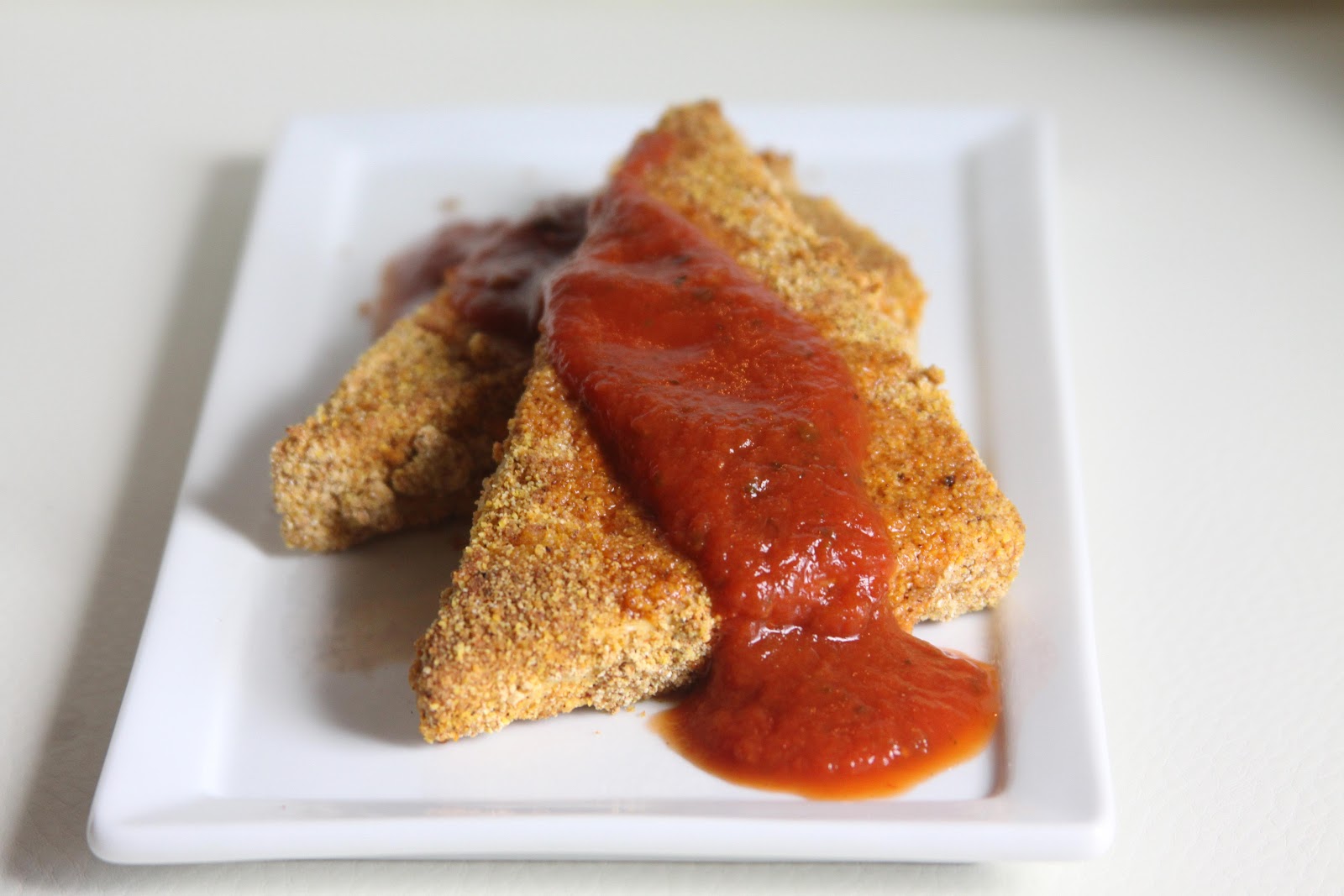 Crispy Baked Tofu with Marinara
Ingredients
*1 large block of extra firm tofu
*1/2 cornmeal
*1/3 cup graham cracker crumbs
*1/2 teaspoon salt
*1/2 teaspoon cumin
*1 teaspoon ground mustard
*1/2 teaspoon Spanish paprika
*1 teaspoon chili powder
*1/4 teaspoon ground black pepper
*1/2 cup Egg Beaters liquid egg whites or two large eggs, beaten well 
*2/3 cup purchased marinara sauce
Instructions
*Place two paper towels on a large dinner plate. Place the block of tofu on the paper towels. Top with two additional paper towels and another dinner plate. Put a cookbook atop the dinner plate and allow the water to drain out of the tofu (this will help the tofu crisp up in the oven) for about 20 minutes. Discard paper towels.
*Preheat oven to 400°F. Line a baking sheet with aluminum foil. Lightly spray with nonstick cooking spray or coat lightly with olive oil. Set aside. 
*Cut tofu lengthwise into two rectangles. Cut each rectangle into two triangles to form four triangles total.
*Place Egg Beaters or eggs in a shallow bowl. In a second shallow bowl, combine the cornmeal, graham cracker crumbs, salt, cumin, ground mustard, paprika, chili powder and ground black pepper. Stir until evenly combined.
*Dip each tofu triangle into the egg mixture, followed by the cornmeal mixture, coating evenly with the dry crumbs. Transfer coated tofu to the lined baking sheet. Bake tofu for 20 minutes, turning once halfway through.
*Serve with the marinara sauce. Makes 2 servings
Happy Cooking!
Madison