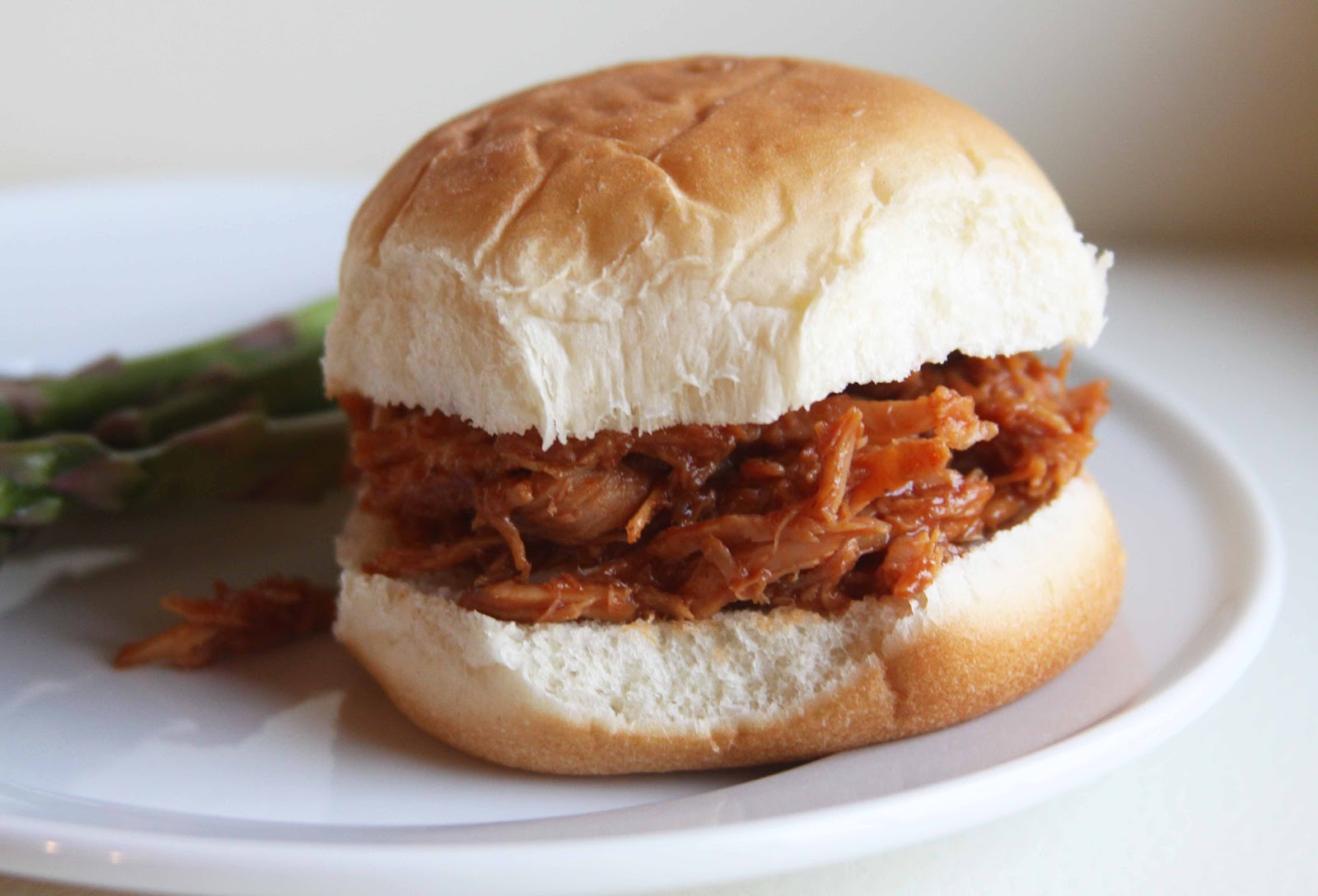 You know me. I'm all about simple weeknight meals. In fact, I think everyone I talk to is looking for more easy meals that don't require a bunch of ingredients or a lot of time. This is especially true when it comes to meat. Being a vegetarian, most of my meals are quick to prepare. Roasted veggies, sauteed tofu, loaded up salads – they're all quick and easy. So it's probably no surprise that I have less patience when cooking meat for the hubs on weeknights.
Before we got married, I had never cooked with a slow cooker. After seven months of being married, I'm not sure I could give mine up. Singe Joe is happy to eat meals that are much heartier than my preferred fare, the slow cooker is my savior. It cooks meat to absolute tenderness and does everything for me while I am away at work.
This 'pulled pork' (I'm using the term loosely for the barbecue purists out there) was a big hit tonight. Yes, it uses bottled barbecue sauce, ketchup and a tenderized pork loin. But it's also practically ready to eat the minute you walk in the door. All you have to do is mix together the ingredients for the sauce and shred the pork. It's really that easy.
And what did I have for dinner you might ask? Greek yogurt, Kashi Go Lean Crunch cereal, peanut butter and mixed berries, of course. 🙂
Slow Cooker Pulled Pork Sandwiches
*1 Hormel Always Tender Pork Loin (27 ounces)
*1 cup beef broth
*3 cups water
*Salt and black pepper
*1 cup bottled barbecue sauce
*1/2 cup ketchup
*1 teaspoon white wine vinegar
*1 tablespoon brown sugar
*Hamburger buns or kaiser rolls
Instructions
*In a 6- to 8-quart slow cooker, combine the pork loin, broth and water. Set the slow cooker on low. Cover and cook for 8 to 10 hours, until the loin shreds easily when pierced easily with a fork.
*Remove the loin from the slow cooker. Discard the liquid. Place the loin in a large bowl and shred with two forks. Add in the barbecue sauce, ketchup, white wine vinegar and brown sugar and stir into the meat until evenly combined. Transfer shredded pork to buns and serve immediately. Store unused pork in an airtight container in the fridge. Makes 4 to 6 servings
Happy Cooking!
Madison