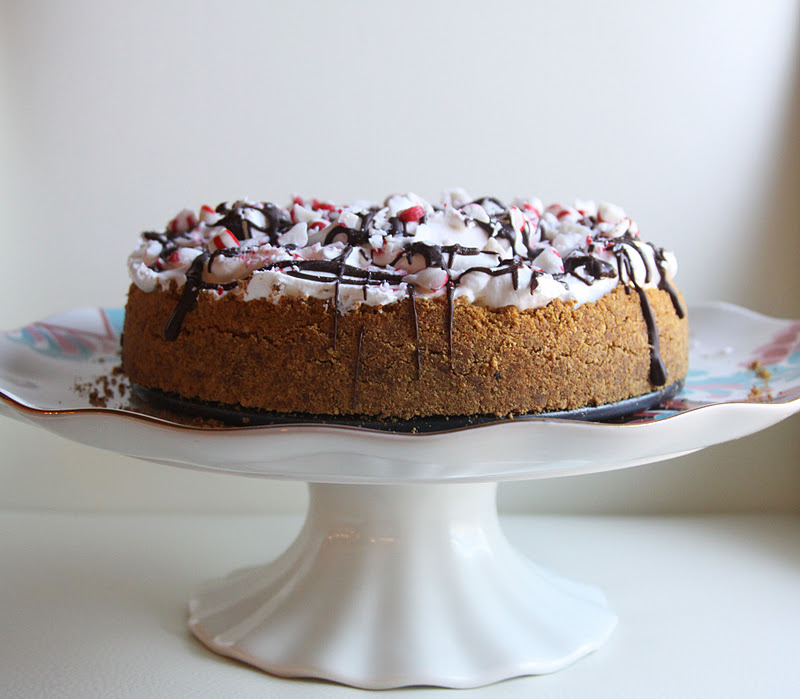 For those of you that are still looking for a festive dessert over the holidays that is something a little fancier than cookies, this Healthier Peppermint Cheesecake would make a fabulous addition to your holiday table. Joey and I had friends over last week and the finale to our meal was this cheesecake.
Since I figured everyone this time of year gets enough heavy, calorie-dense meals, I wanted to keep the dessert lighter than traditional cheesecake. When I found this cheesecake recipe in a Holiday Diabetic Recipes magazine I picked up a few weeks back, I knew it would be the perfect dessert. Although no one in the group is diabetic, the recipe was lower in calories and fat than any other recipe I've come across.
When it comes to taste and flavor, I could hardly tell that this was a healthier cheesecake. It was slightly less sweet, but I found that pleasant when compared to the typical sugar coma inducing cheesecake of the Cheesecake Factory.
In other news, Joey and I have been having a great time with family and taking a little time off from work. I'll post an update soon on happenings over the past couple days, but for now I'll leave you with a this crazy-good recipe.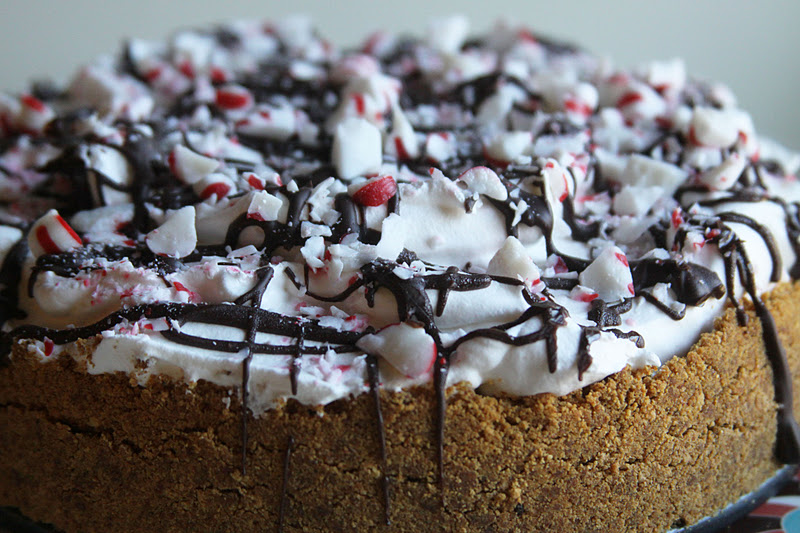 Festive Peppermint Cheesecake
1 1/4 cups finely crushed low-fat graham crackers
1/4 cup ground flaxseed meal
1/3 cup tub-style vegetable oil spread, melted
1 (8-ounce) package reduced-fat cream cheese
1 (7-ounce) jar marshmallow creme
1 (6-ounce) container plain nonfat Greek yogurt
1/2 teaspoon peppermint extract
3/4 cup refrigerated or frozen egg product, thawed, or 3 eggs, lightly beaten
1 1/2 cups frozen light whipped dessert topping
6 sugar-free peppermints, crushed
1 ounce semi-sweet chocolate, melted
1. Preheat oven to 375°F. For crust, combine graham crackers and flaxseed meal. Stir in melted vegetable oil spread. Press crumb mixture into bottom and about 2-inches up sides of an 8-inch springform pan, set aside.
2. For filling, beat cream cheese, marshmallow creme, yogurt, and peppermint extract until smooth. Stir in eggs just until combined.
3. Pour filling into crust-lined pan. Place pan in a shallow baking pan. Bake for 40 to 45 minutes or until a 2 1/2 inch area around the outside edge appears set when gently shaken.
4. Cool in pan on a wire rack for 15 minutes. Using a small sharp knife, loosen the crust from sides of pan; cool for 30 minutes. Remove the side of the pan; cool cheesecake completely on rack. Cover; chill for at least 4 hours before serving.
5. To serve, spread desert topping on top. Top with melted chocolate and crushed peppermints.
Nutrition Facts per serving (makes 12 servings): 258 cal., 12 g total fat, 14 mg chol., 212 mg. sodium, 31 g carb, 1 g fiber, 6 g pro.
Happy Baking!
Madison