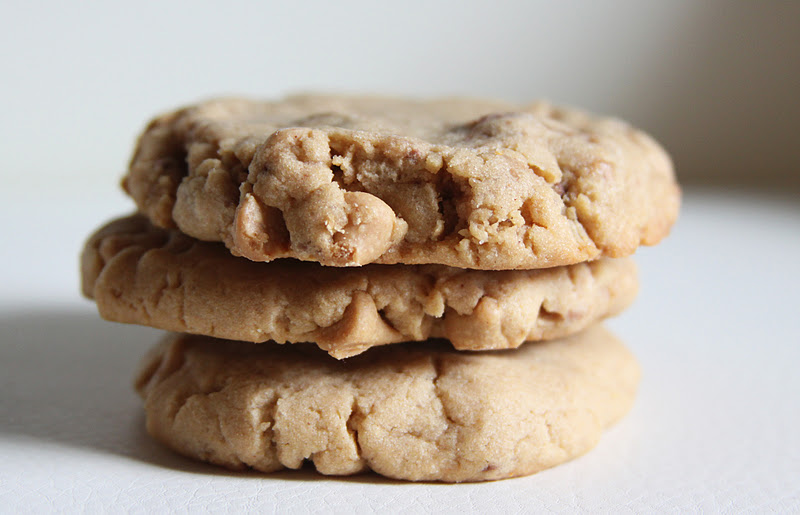 Is it just me, or has it been too long since I posted a new cookie recipe? Truth be told, most baking and elaborate cooking endeavors have taken a back seat to other, more pressing maters. Between filming and traveling for "Hey, Can You Cook?! All-Stars", keeping up with work responsibilities, traveling to catch football games and meeting our new little nephew, and spending a little bit of time Joe, too, time has been short.
But I know that despite the craziness that has been the last month, there are a lot of wonderful things going on right now. I feel blessed to be where I am, surrounded by my amazing support system, and energized by the new experiences that are pushing me way out of my comfort zone.
As we enter into November, the month of thanks, I hope you will all consider taking time out of every day to reflect on something you are thankful for. If you're on Twitter, take a cue from Tina's post over at Carrots 'N' Cake and take part in Tweeting what you are thankful for with the hash tag #bethankfulchallenge. It's a great way to see what others are thankful for and get you in the right frame of mind amid the craziness of the day-to-day.
Right now, I'm thankful to be home. And for these cookies. Because they are super tasty, chewy and perfect for keeping warm as the weather gets cooler.
Peanut Butter Toffee Cookies
Ingredients
*1 1/2 cups white whole wheat flour (or all-purpose flour)
*1/2 teaspoon baking soda
*4 ounces unsalted butter, softened
*1/2 cup sugar
*1/2 cup packed light brown sugar
*1/4 teaspoon salt
*1/2 cup creamy peanut butter
*1 large egg
*1 teaspoon vanilla extract
*1/2 cup peanut butter chips
*1/2 cup toffee bits (Heath Bar bits)
Instructions
*Place racks in the middle and lower third of the oven and preheat the oven to 350°F. Line two baking sheets with parchment paper.
*Sift together the flour and baking soda and set aside. 
*In the bowl of a stand mixer fitted with the paddle attachment, or in a large bowl with a hand mixer, cream the butter on medium speed until creamy, about 2 minutes. 
*Scrape down the sides of the bowl. Add the sugar, brown sugar, salt and creamy peanut butter. Continue creaming the mixture on medium speed until it is smooth and lump-free, about 1 minutes. Stop the mixer and scrape down the sides of the bowl and the paddle.
*Add the egg and vanilla and beat on low speed for 15 seconds, or until the egg is fully incorporated. Do not overbeat. Scrape down the sides of the bowl.
*On low speed, add the sifted flour mixture. Beat slowly until all of the flour is incorporated. Scrape down the sides of the bowl. Add the peanut butter chips and toffee bits and stir in.
*Drop dough by rounded tablespoons onto prepared baking sheets, 2-inches apart. Flatten slightly with your hand. Bake, rotating the sheets from top to bottom and from front to back halfway through the baking, for 10 to 12 minutes, until lightly browned. Remove from the oven and slide the parchment off the baking sheets onto a work surface. Cool the baking sheets between batches. Allow the cookies to cool for at least five minutes before serving.
Happy Baking!
Madison