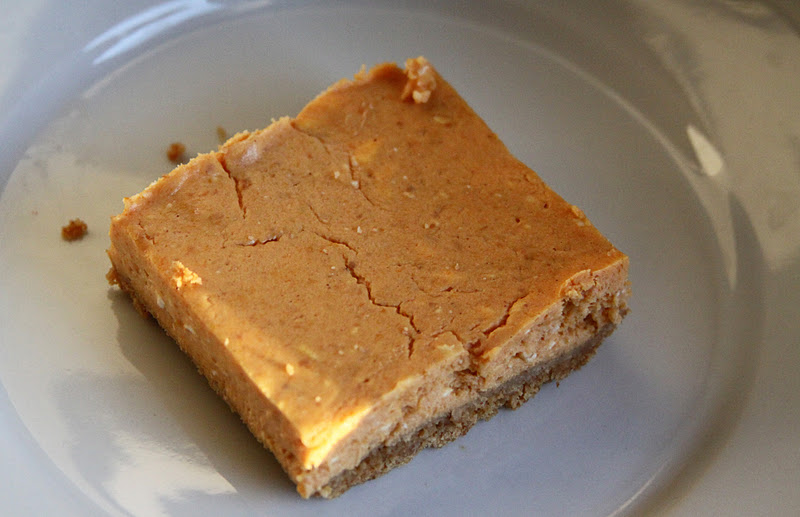 I promise that once Thanksgiving has come and gone, I will return to posting things that aren't filled with pumpkin. But my love for the stuff is still going strong, and I intend to keep baking with pumpkin until Turkey day arrives.
Last weekend I spent a little time scouring magazines looking for recipes for our family Thanksgiving. I don't know about you all, but on Thanksgiving I prefer to indulge responsibly. There is nothing I hate more than the "oh my gosh I feel so full I want to die" feeling. It's really less about calorie consumption and more about how I feel after eating a huge meal and the days following. Also known as Thanksgiving hangover.
When I spotted a recipe for Pumpkin-Almond Cheesecake in Cooking Light's November issue, I knew I had to give it a try. Instead of making the almond cake that was intended as the bottom layer, I used a crispy graham cracker crust and poured the lightened up cheesecake mixture atop.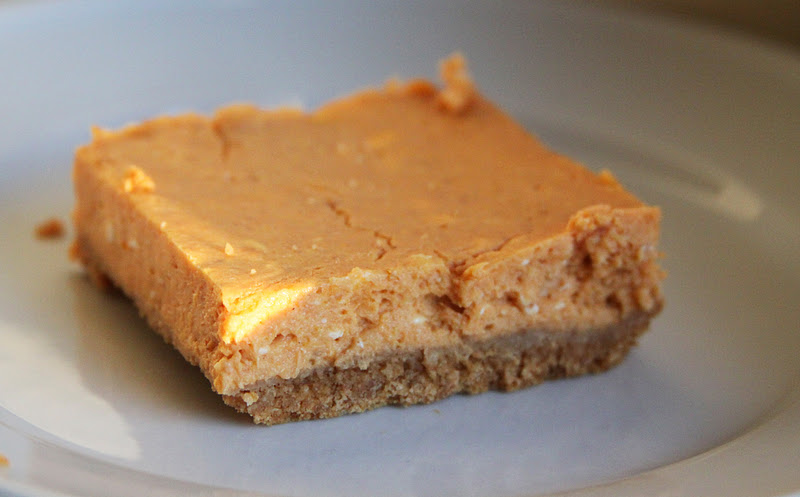 I was expecting to be a bit underwhelmed by the dessert when I threw in a block of low-fat cream cheese, Greek yogurt and very little sugar. But to my surprise and delight it was awesome. Smooth, rich-tasting and lightly sweet, Joey and I both ate a piece without feeling stuffed afterward. Things only got better when I calculated the nutrition information for the bars and found that when you make it into 12 servings, each serving only has around 190 calories. Not an ultra low-calorie dessert, but hardly a gut-busting indulgence, either.
Healthier Pumpkin Cheesecake Bars
Recipe slightly adapted from Cooking Light magazine
Ingredients
For Crust:
*1 1/3 cups graham cracker crumbs
*2 tablespoons sugar
*3 tablespoons butter, melted
For Filling:
*8 ounces reduced fat cream cheese
*1/2 cup sugar
*3 large eggs
*1 tsp. vanilla extract
*1 1/4 cups canned pumpkin puree
*1/3 cup plain 2% reduced-fat Greek yogurt
*1 teaspoon ground cinnamon
Instructions
*Preheat oven to 300°F. In a small bowl, combine the crust ingredients until well combined. Press the crust mixture evenly into an 8×8-inch square baking pan. Set aside.
*In the bowl of an electric mixer, beat together the cream cheese and sugar until light and fluffy. Beat in eggs, one at a time, until just combined. Add in the vanilla, pumpkin, Greek yogurt and cinnamon and beat until smooth and incorporated.
*Pour filling mixture into prepared crust pan. Bake for 45 to 55 minutes or until the cheesecake center barely moves when pan is touched. Cool completely on a wire rack. Transfer to the refrigerator and chill for at least 8 hours. Makes 12 servings
Approximate Calories per serving: 190
Happy Baking!
Madison