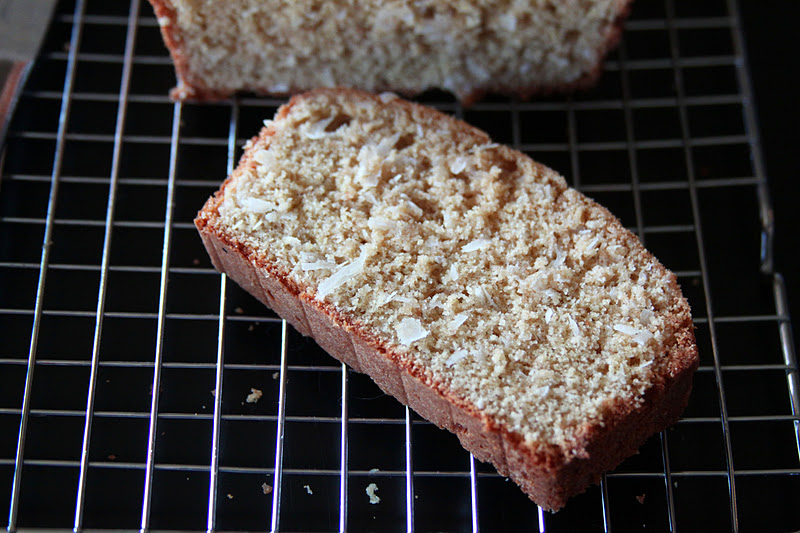 I have a bit of a thing for old, passed-along recipes that have survived decades and generations. Something about the fact that they are old and cherished just sucks me in every time. So last week, when the recipe for
Emily Dickinson's Coconut Cake
started floating around the internet, I couldn't resist giving the recipe a try. 
Not surprisingly, I really enjoyed the cake because of the one-bowl nature of the whole thing. Very few ingredients were required, all of which I had on hand, and it had only a mild level of sweetness that appealed to me. Beware, the texture of this loaf cake is fairly dense and resembles a pound cake rather than a traditional cake. 
If you're looking for a cake that will bowl you over with sweetness, this is not your cake. But if you are looking for a cake that is perfect for serving with a pat of butter at breakfast or as an afternoon snack with coffee, this would totally fit the bill. 
Emily Dickinson's Coconut Loaf Cake
Ingredients
*1 cup sweetened flaked coconut
*2 cups flour
*1 cup sugar
*1/2 cup butter, softened
*1/2 cup milk
*2 large eggs
*1/2 teaspoon baking soda
*1 teaspoon cream of tartar 
Instructions
*Preheat oven to 350°F. Grease a 9×5-inch baking pan and line the bottom with parchment paper. Cream together the butter and sugar. Add in the eggs, followed by the remaining ingredients. Pour batter into the pan and bake for 50 to 60 minutes, or until a toothpick inserted into the center comes out clean. 
Happy Baking!
Madison