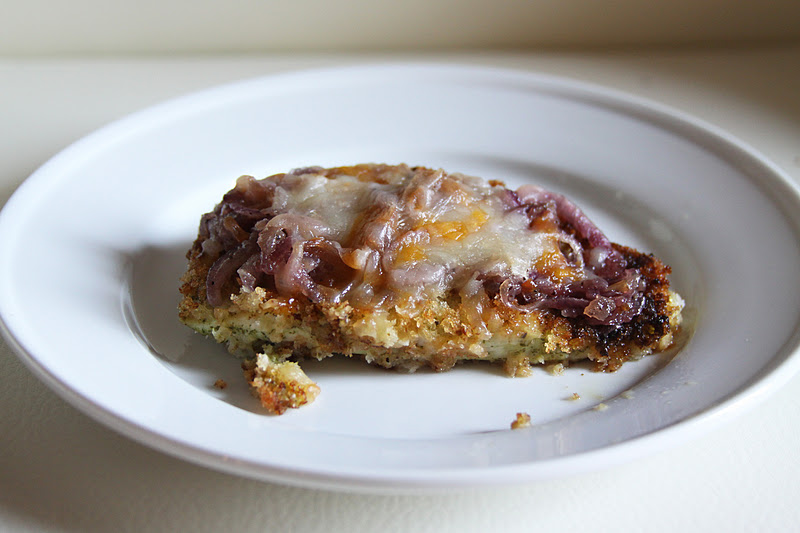 Last week I came home with a bunch of great ingredients after a photo shoot at work. Any time I come home with food from a shoot it's inspiration for me to do a little cooking so food doesn't go to waste. And since we almost always have meat at the shoot, I make sure to snag some to take home so I can make a special meal for Joe.
I didn't really have a plan for the meal. Instead, I decided to just go with the flow and see what happened. Cooking without a plan or a deadline was so relaxing and so much fun, and I realized I don't do it nearly as often as I should.
Joey was blown away with the results. He kept raving about how this was the best meal I've ever made, and that the recipe was worthy enough to be on a restaurant menu. It's not as healthy as the recipes that I typically make, but for a fun, impressive dinner dish, this chicken totally comes through.
Crunchy Pesto Chicken with Caramelized Onions
Ingredients
*1 medium red onion, peeled and thinly sliced
*3 tablespoons unsalted butter
*1/4 teaspoon salt
*1/4 teaspoon ground black pepper
*2 boneless skinless chicken breast halves, cut in half widthwise (to make four thin chicken breasts)
*1/3 cup fresh basil leaves
*1/4 cup crumbled feta cheese with Italian herbs
*1/2 cup olive oil
*1 cup panko (Japanese bread crumbs)
*Additional olive oil for frying
*1 cup shredded cheese (I used a mozzarella-cheddar mix)
Instructions
*In a large skillet over medium heat, melted the butter. Add in the onions, salt and pepper. Cook, stirring occasionally, for 15 to 20 minutes, or until onions are caramelized and soft. Remove from heat and set aside.
*Preheat oven to 350°F. Lightly grease a 13×9-inch baking pan or line with aluminum foil. Set aside.
*With a small food processor, blend together the basil, feta cheese and 1/2 cup olive oil and process until mixture is nearly smooth, about 1 minute. Transfer to a shallow bowl. Place panko in a second shallow bowl.
*Dip chicken breasts in the basil mixture to coat both sides, followed by the panko.
*In a large nonstick stillet, heat a couple tablespoons of olive oil over medium high heat. Place chicken breasts, two at a time, in the hot oil, cooking for 2 minutes per side. Chicken does not need to be cooked through. Transfer seared chicken breasts to the prepared baking pan. Top with some of the caramelized onions, followed by some of the shredded cheese.
*Bake for 10 to 12 minutes, or until cheese is melted and chicken is cooked through and no pink remains.
Happy Cooking!
Madison