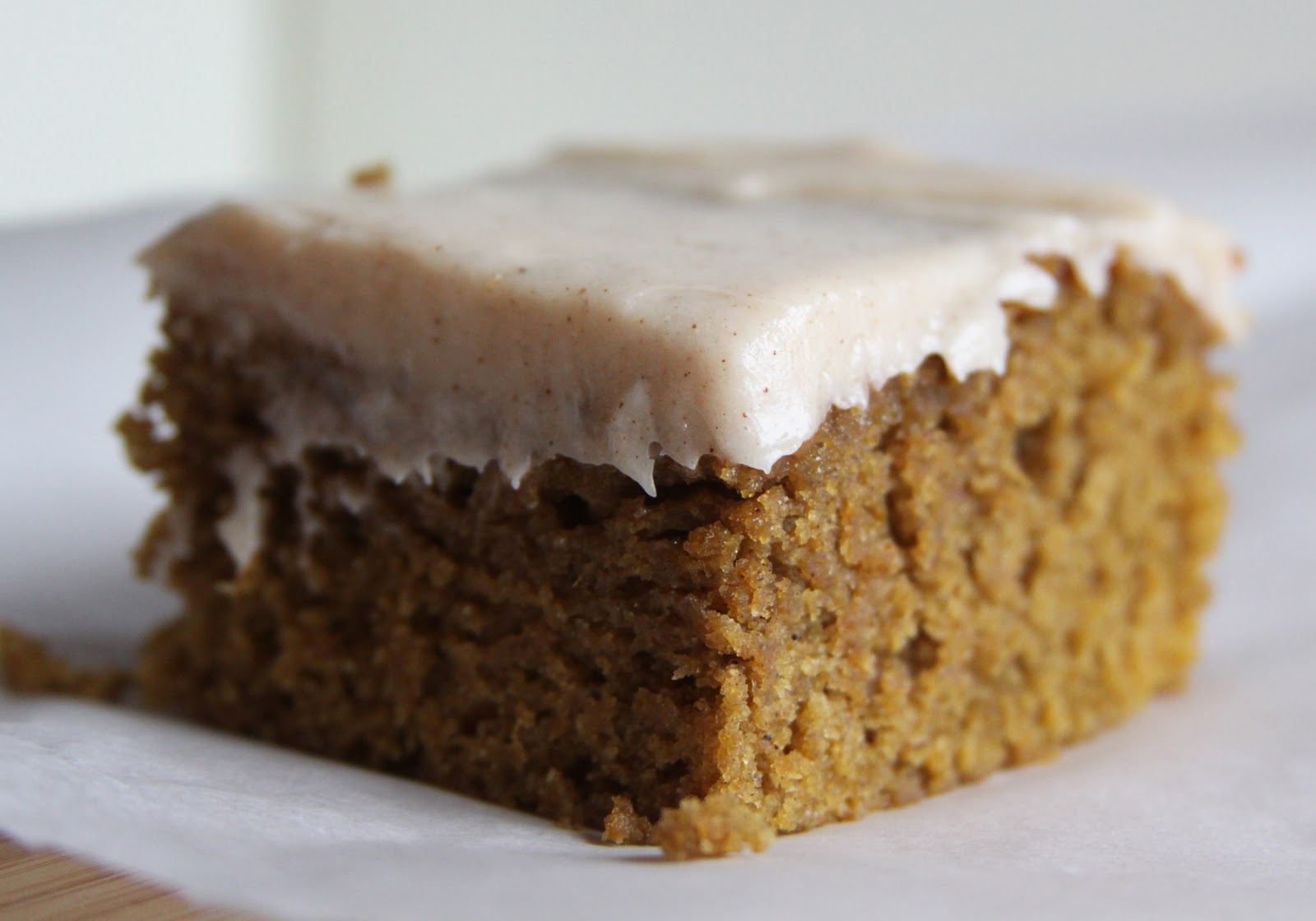 We might as well christen this pumpkin week over in the Espresso and Cream kitchen. In addition to eating it non-stop in Healthy Pumpkin Butter form, I've also been baking with canned pumpkin.
Joey grew up with a mom who frequently had a pan of bars in some shape and form sitting around the house for hungry boys to eat. And every now and again, I like to recreate this in our home, too. Last month it was Banana Sheet Cake and this month's version is Pumpkin Bars with Cream Cheese Frosting.
Of course, anything with cream cheese frosting is a hit in my book, but these bars are especially tasty and moist thanks to the canned pumpkin. As the days went by, the bars actually started to taste better, similar to the banana bread phenomenon. I would say that if you're thinking of making them to bring somewhere, a day or two ahead of time would yield fantastic results.
Pumpkin Bars with Cream Cheese Frosting
Adapted slightly from Sweet Pea's Kitchen
Ingredients
Cake Batter
*4 eggs
*1 2/3 cups sugar
*1 cup vegetable oil
*1 (15-ounce) can pumpkin puree
*1 cup all-purpose flour
*1 cup whole wheat flour
*2 teaspoons baking powder
*2 teaspoons ground cinnamon
*1/4 teaspoon ground ginger
*1/4 teaspoon nutmeg
*1/2 teaspoon salt
*1 teaspoon baking soda
Frosting
*8 ounce cream cheese, softened
*1/2 cup butter, softened
*2 cups sifted powdered sugar
*1 teaspoon vanilla extract
*1/2 teaspoon ground cinnamon
Instructions
*Preheat oven to 350°F. Lightly grease a 9×13-inch baking pan. Set aside.
*In the bowl of an electric mixer, combine the eggs, sugar, oil and pumpkin puree. Beat on medium heat until light and fluffy, about 2 minutes.
*In a large bowl, combine the remaining ingredients for the cake batter. Add the dry ingredients to the wet ingredients. Beat until just combined. Transfer batter to the prepared pan. Bake for 30 to 35 minutes, or until a toothpick inserted into the center comes out clean. Transfer to a wire rack; cool completely.
*Meanwhile, with an electric mixer, beat together the cream cheese and butter until smooth. Add in the powdered sugar, vanilla extract and cinnamon. Beat until smooth. Spread atop the bars and cut into squares.
Happy Baking!
Madison