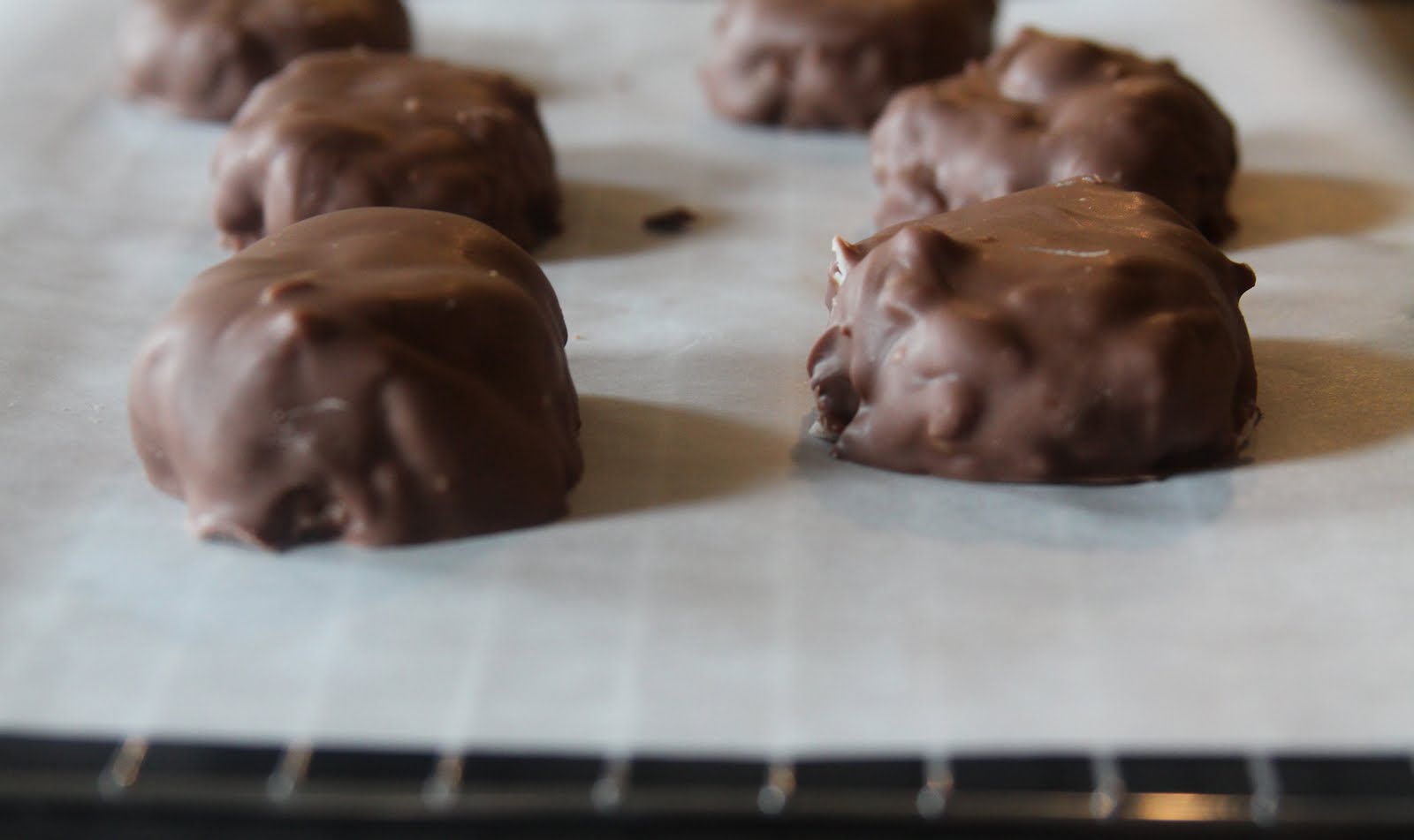 Hey, friends! I hope you had a great weekend. My mom spent the weekend with us, which meant Joey and I spent the weekend trying to keep up with her. We played tennis, grilled out and went on an 8-mile run this morning. Exactly how I like to spend my weekend. 
For as long as I remember, I've been intrigued by the idea of making my own candy bars. I don't really have a clue why, since I can't remember the last time I ate a full-sized candy bar or purchased one at the store, but it's intrigued me none the less. 
Of course making homemade Snickers intimidates the heck out of me, and don't ask me how to recreate that filling inside a Milky Way. So to begin my candy bar making adventures, I stuck with something approachable: an Almond Joy. 
I suppose it's only fitting that the recipe I found when I Googled 'Homemade Almond Joy' was from
Joy the Baker
. Trust me, her recipe does not disappoint. We've been keeping these babies in our fridge for the last week or so and I can only imagine they would make a great treat wrapped up in waxed paper and tied with a ribbon.  
Homemade Almond Joy Candy Bars
Ingredients
*7 ounces sweetened condensed milk
*1 cup powdered sugar
*1 tablespoon vanilla extract
*Pinch of salt
*2 1/2 cups unsweetened flake coconut 
*30 almonds
*20 ounces good quality milk chocolate chips 
Instructions
*In a large bowl, combine the sweetened condensed milk, powdered sugar, vanilla extract, salt and coconut. Stir until well combined. Refrigerate mixture until ready to use. 
*Meanwhile, line a baking sheet with parchment paper. Set aside. Melt the chocolate chips in a microwave-safe bowl in the microwave, melting in 30-second intervals until it is completely smooth. 
*Form the coconut mixture into 30 oval-shaped clusters. Press an almond into the center of each cluster. 
*Place one coconut cluster on a fork. Use a spoon to scoop a bit of chocolate over the almond.  This will help the almond stick to the candy and not fall off during dipping.  Lower fork into chocolate and spoon chocolate over candy to coat.  Lift fork and gently shake to release some of the chocolate.  Scrape the bottom of the fork along the side of the bowl and place on the lined baking sheet.
*Allow chocolate clusters to harden, at least an hour. 
Happy Baking!
Madison