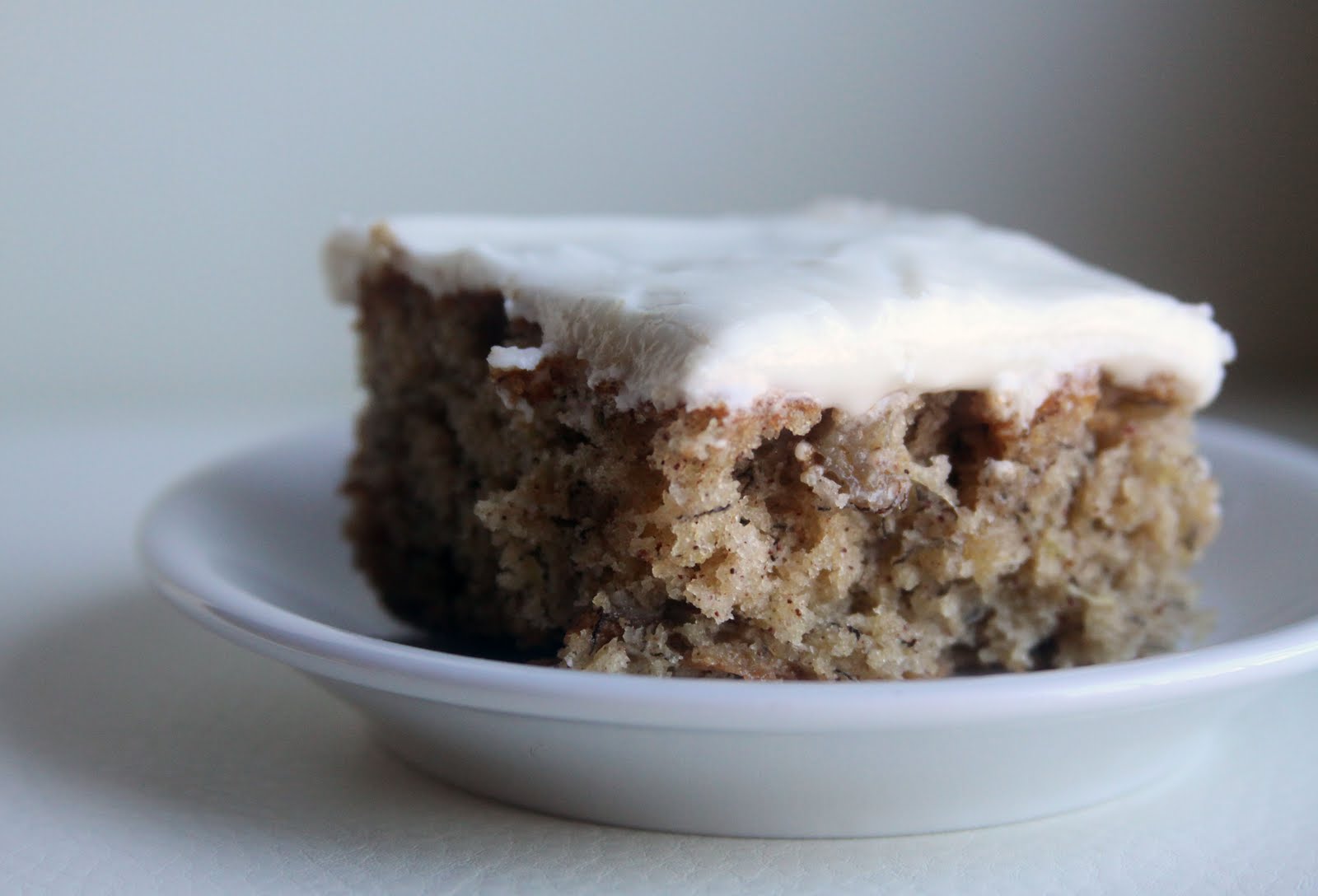 Over the past month of marriage, I've realized how much more fun cooking has become. Although I could live on smoothies, roasted vegetables and whole grains, it's been a blast getting to stretch myself in the kitchen again and push myself to come up with meals many nights during the week. 
Typically, desserts have been a bit of trouble spot for me. I love to eat them, probably a little too much, and more often than not, I found myself in the cycle of depriving myself for days only to overindulge every now and again. Joey, on the other hand, has a much better grasp on enjoying desserts in moderation since sweets have never really been his thing. Having someone to keep me accountable, while allowing me to still enjoy something sweet every single night has been a nice switch up from the way it used to be before we got married.
Over the past couple days, we've been enjoying slices of this Banana Sheet Cake. The recipe comes straight from my favorite cookbook of all time, The Ultimate Southern Living Cookbook. I don't think I've made a single recipe from this cookbook over the years that hasn't turned out beautifully. Complicated, sophisticated food it is not. But delicious it is, indeed. 
One of Joey's biggest requirements for a tasty cake or quick bread is that it be moist. This recipe fits the bill thanks to the addition of mashed banana as well as a can of crushed pineapple. Although the pineapple flavor and texture is barely noticeable, it imparts amazing moisture to this cake that only gets better as the days go by.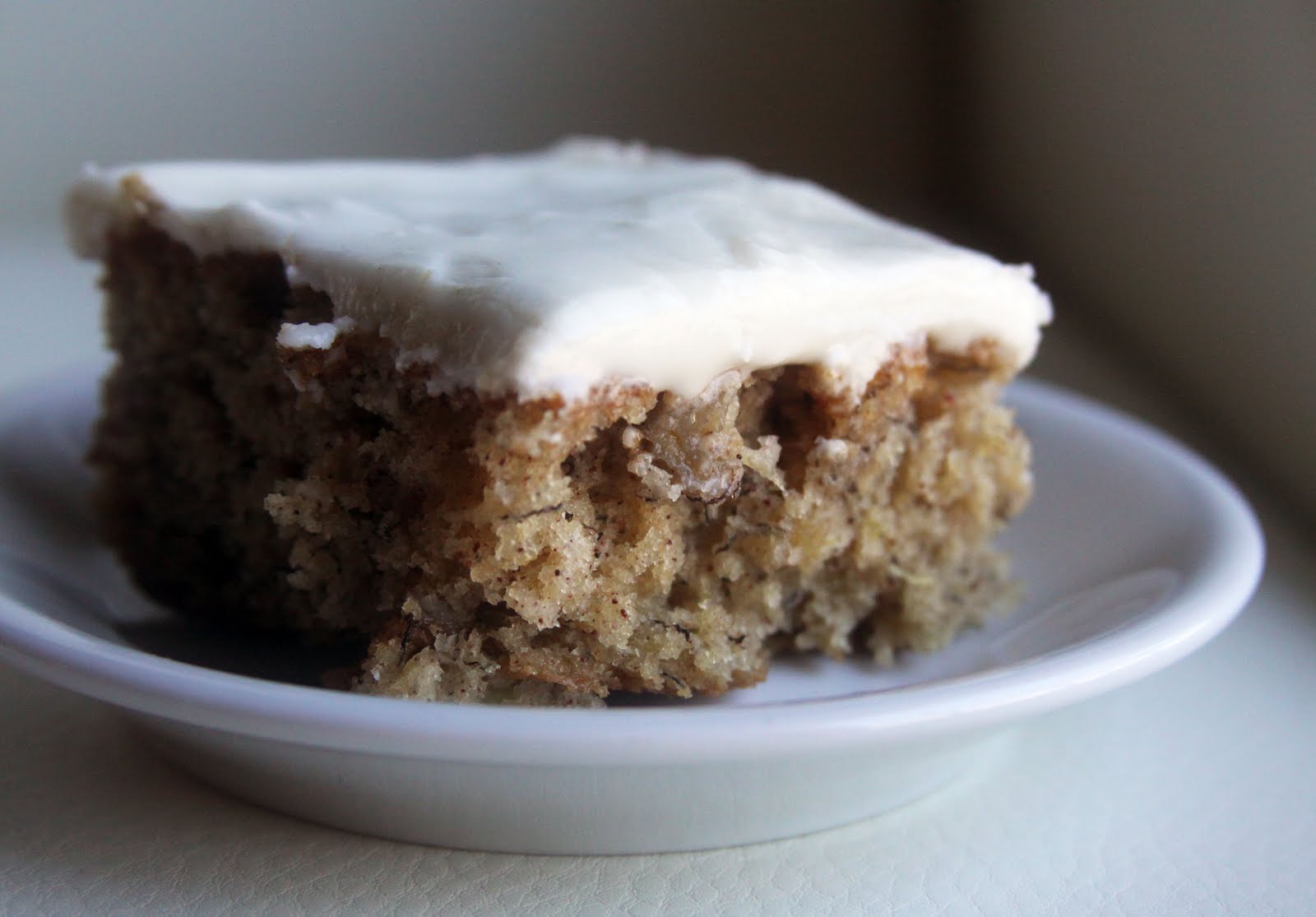 Banana Sheet Cake
Recipe from The Ultimate Southern Living Cookbook (aka my absolute favorite cookbook)
Ingredients
*1 1/2 cups all-purpose flour
*1 teaspoon baking powder
*1 teaspoon baking soda
*1/2 teaspoon salt
*1 teaspoon ground cinnamon
*1 cup sugar
*2 bananas, mashed
*1/2 cup vegetable oil
*2 large eggs
*1 (8-ounce) can crushed pineapple, drained
Frosting
*4 oz. cream cheese, softened
*1 teaspoon vanilla extract
*1/4 cup butter, softened
*2 1/4 cups sifted powdered sugar
Instructions
*Preheat oven to 350°F. Lightly grease a 9×13-inch cake pan. Set aside. Combine the flour, baking powder, baking soda, salt and cinnamon in a mixing bowl.
*In the bowl of an electric mixer, beat together the banana, sugar, vegetable oil and eggs until combined. Add in the dry ingredients. Stir in the crushed pineapple. 
*Spoon batter into prepared pan. Bake for 35 minutes or until cake is golden brown and a toothpick inserted in the center comes out clean. 
*Transfer to a wire rack to cool completely. 
*Meanwhile, combine all the ingredients for the frosting with an electric mixer. Beat until smooth and well combined. Spread over cooled cake. Cut into squares. 
Happy Baking!
Madison