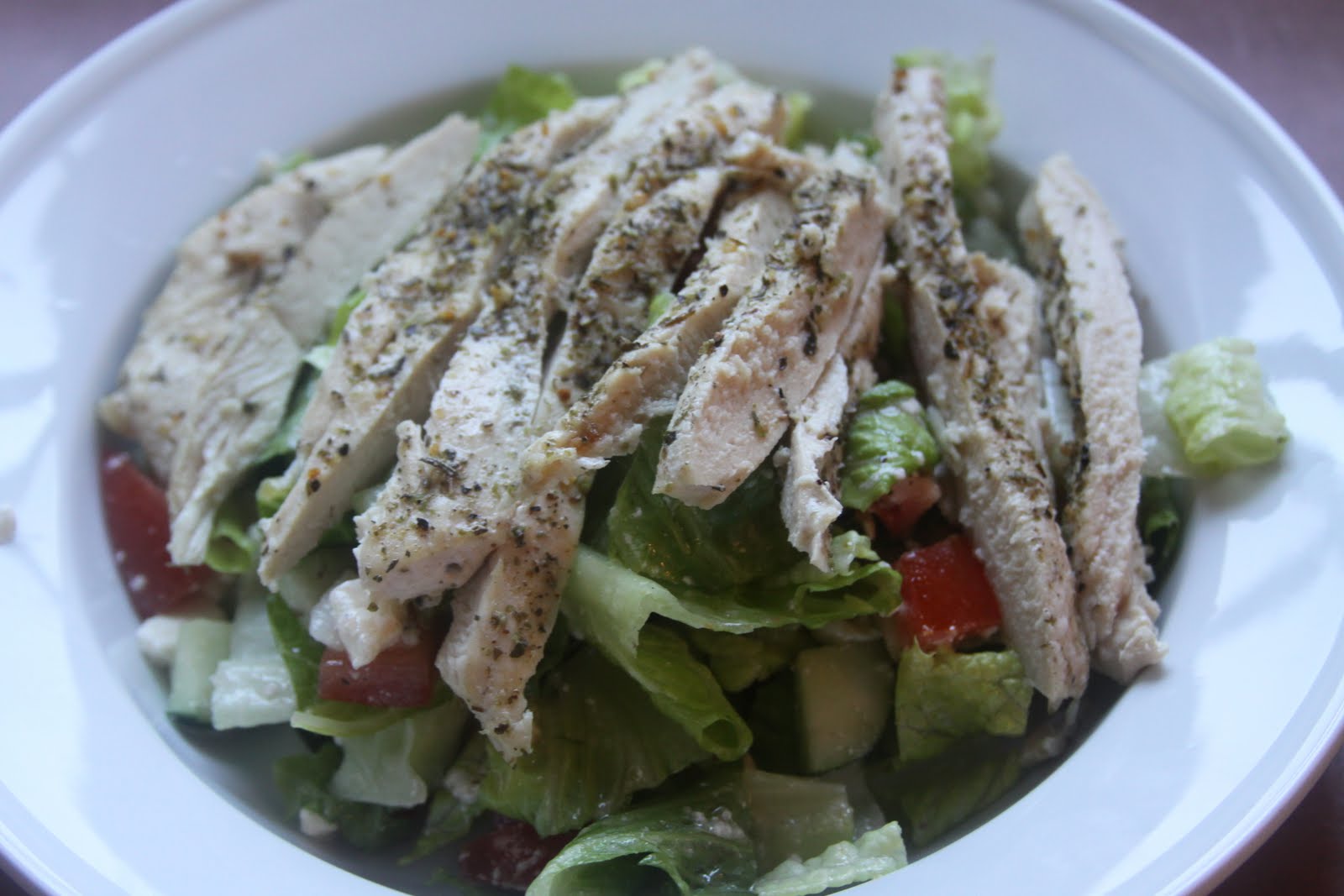 Last night I finally made it to the grocery store with Joey and made my first meal in our new kitchen! I'll admit, the idea of having to plan meals every night and think about what I was going to buy at the grocery store in a more thoughtful manner instead of just winging it concerned me a bit. And no one prepared me for how much milk men go through in a single week!
I never really anticipated being the type to meal plan for the week, but I realized yesterday that planning ahead would keep me much more sane and keep some variety in our mealtimes.
Monday night's dinner was on the light and fresh side since it was a scorching 99°F yesterday with no relief in sight for the next few days. While Joey washed the cars, I made this His and Hers Greek Salad. Named because Joey's (his) was topped with baked seasoned chicken breast and mine (hers) was sans-chicken. And easy, fresh way to find compromise between our two eating styles.
His and Hers Greek Salad (for two)
Ingredients
*1 chicken breast, cut in half lengthwise into two thinner pieces
*2 teaspoons olive oil
*1/4 teaspoons Italian seasoning mix
*Salt and black pepper
*3 to 4 cups chopped Romaine lettuce
*1/2 medium cucumber, chopped
*2 tomatoes, chopped
*1/3 cup crumbled feta cheese
*4 tablespoons Greek-style salad dressing
Instructions
*Preheat oven to 375°F. Line a baking pan with aluminum foil. Place chicken breast on foil and drizzle with the olive oil, Italian seasoning mix, salt and black pepper. Bake in the oven for 12 to 15 minutes, or until chicken is cooked through.
*Meanwhile, in a large bowl, combine the lettuce, cucumber, tomatoes, and crumbled feta cheese. Toss with the dressing and divide between two bowls.
*Top one (or two) of the bowls with the chicken breast and serve.
Happy cooking!
Madison