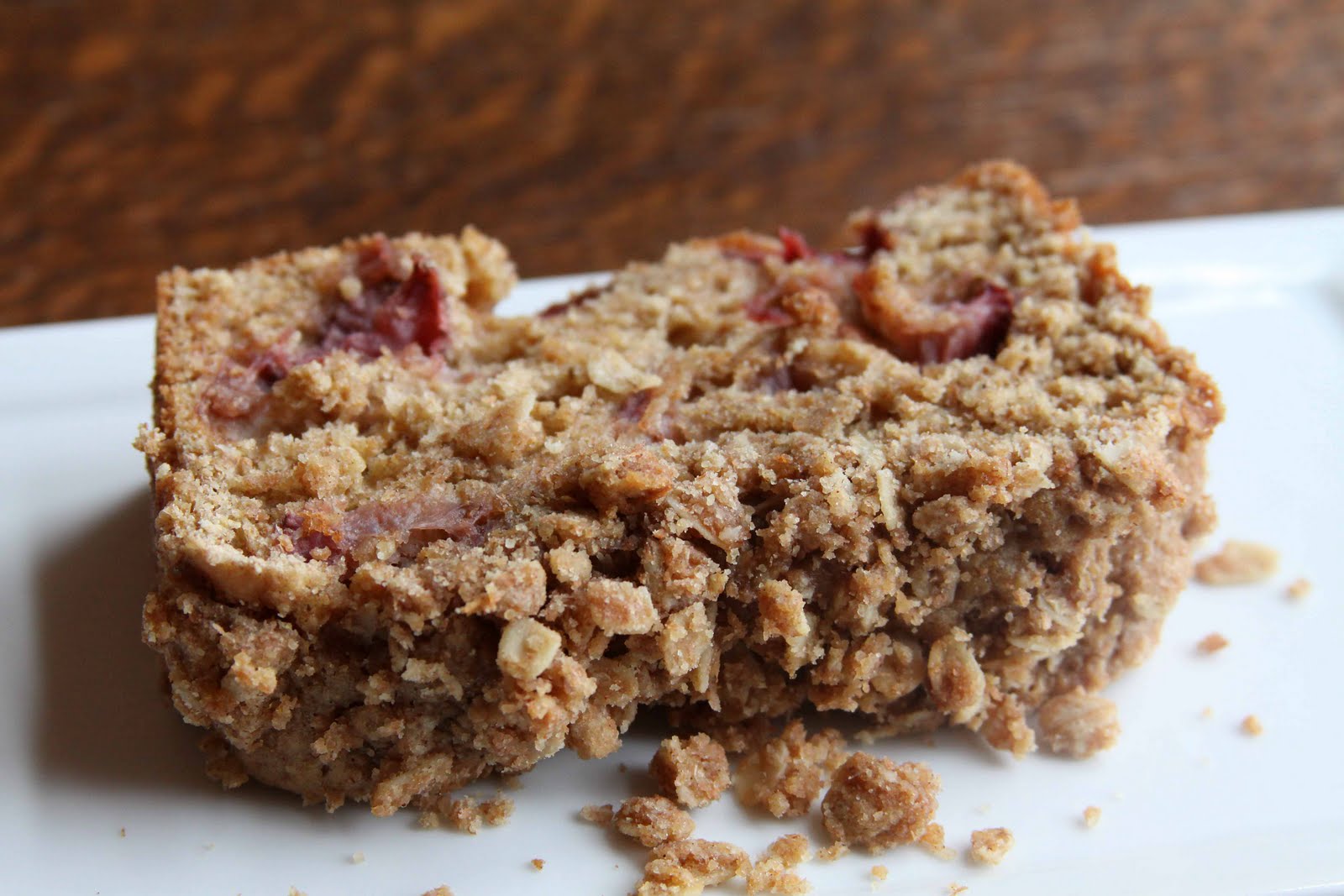 If I'm completely honest with myself, the reason I've avoided vegan baking is because it seems scary and unknown.
Butter and eggs I understand. I know that when you add them to recipes they produce soft, rich, fluffy baked goods that make people oooh and ahhh.
Vegan baking, on the other hand, is another world full of words like flax eggs, vegan margarine and the likes.
So to help you all, and myself, out I stopped by Mama Pea's site, which is full of amazingly approachable vegan recipes, and picked out the easiest baking recipe I could find. Of course, the Apple Spice Coffee Cake seemed a little too much like fall for this time of year, so I switched things up and subbed in chopped fresh strawberries for the apples. Has anyone else noticed how amazingly delicious strawberries are right now?
If you've never ventured into vegan baking, this is a great place to start. And even if you are a vegan baking expert, this streusel bread is worth making. Serve with coffee, at a brunch, or as a mildly-sweet dessert. The choice is up to you.
Have a happy weekend, all!
Vegan Strawberry Streusel Bread
Adapted from Mama Pea's Apple Spice Coffee Cake 
Ingredients
*1/2 cup non dairy milk
*3/4 cup unsweetened apple sauce
*1/4 cup canola oil
*1 teaspoon ground cinnamon 
*1 teaspoon vanilla extract
*1/2 cup brown sugar
*1 cup whole wheat flour
*1 cup all-purpose flour
*1 1/2 teaspoons baking powder
*1/2 teaspoon baking soda
*1/4 teaspoon salt
*1 cup chopped fresh strawberries
For the topping:
*3 tablespoons brown sugar
*1 tablespoon sugar
*2 tablespoons flour
*2 1/2 tablespoons vegan margarine
*1/4 cup old fashioned oats
*2 teaspoons ground cinnamon
Instructions:
*Preheat oven to 350°F. Grease a 9×5-inch loaf pan or line with parchment paper. (I prefer to grease and line just the bottom with parchment.)
*In a small mixing bowl, combine the non-dairy milk, apple sauce, oil, cinnamon, vanilla and brown sugar. Stir until well combined.
*In a large bowl, combine the flours, baking powder, baking soda and salt. Stir to combine. Add the wet ingredients to the dry ingredients. Stir until just combined.
*Gently stir in chopped strawberries. Transfer batter to loaf pan.
*In a small bowl, combine the ingredients for the topping and combine with fingers until mixture is well combined and crumbly. Spread mixture atop batter in loaf pan.
*Bake for 45 to 55 minutes, or until a toothpick inserted in the center comes out clean. Transfer to a wire rack to cool. Serve with vegan margarine or strawberry preserves.
Happy Baking!
Madison