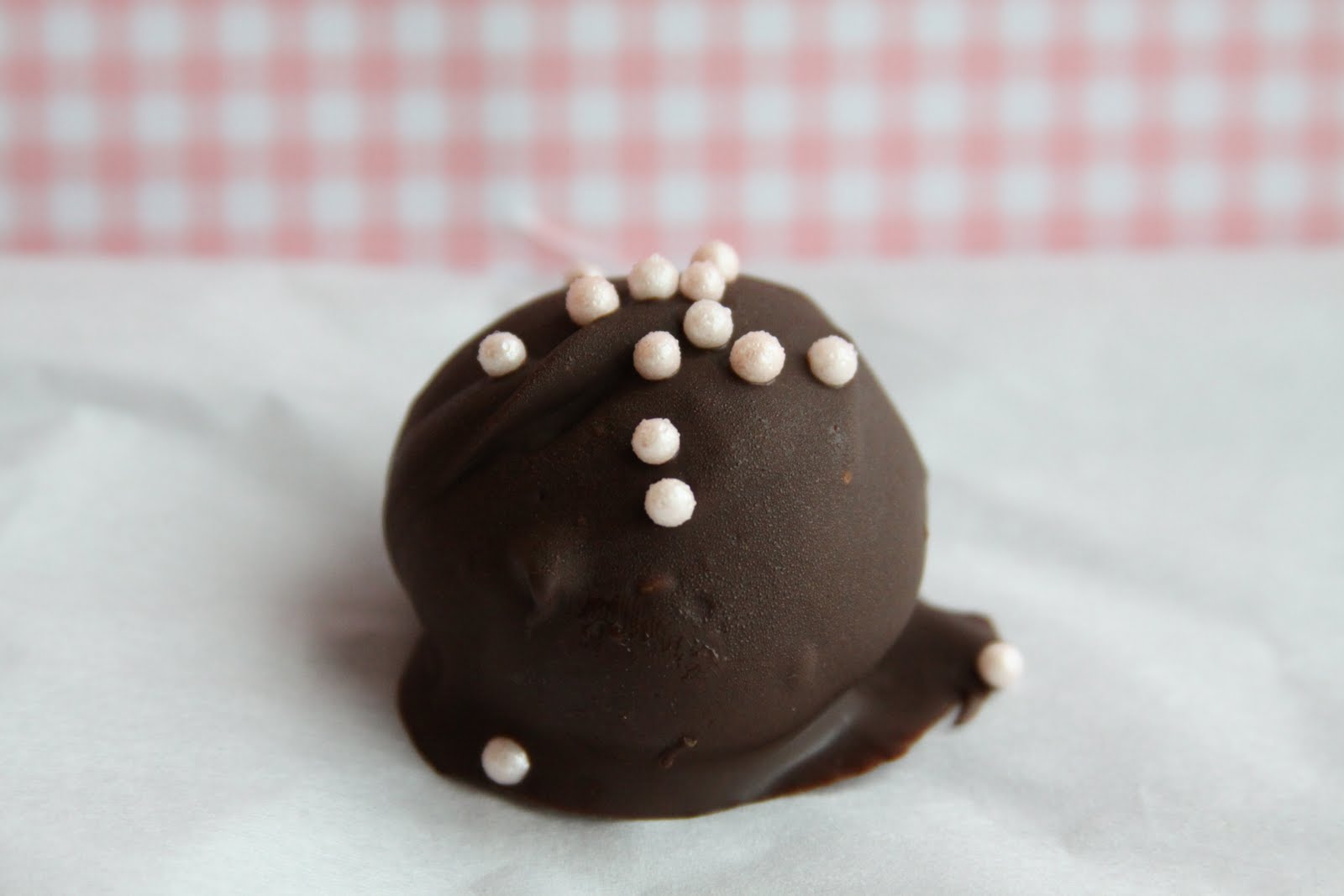 I didn't set out to make cake balls, a la Bakarella, but then again, I'm guessing that a lot of cake balls have been made after a cake recipe failed. Thankfully, cake balls and cake pops have become envied, coveted and enjoyed in every Sarbucks around the country.
Tuesday night I set out to make peanut butter chocolate chip cupcakes with peanut butter buttercream after reading another inspiring and mouthwatering recipe from The Blue Eyed Bakers. However, instead of following their recipe, which I should have, I got lazy and experimented with one of my own. The cupcakes weren't a total flop, just slightly flat and lifeless.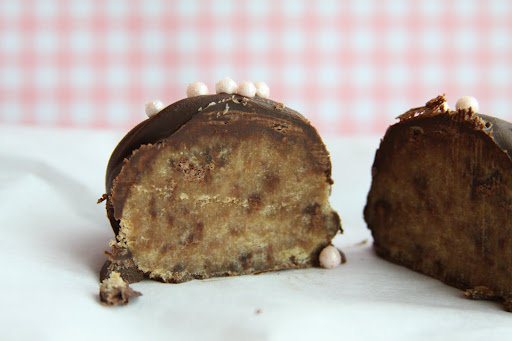 Thankfully, when crumbled up, combined with frosting and dipped in chocolate the cake makes a heck of a cake ball. I like to think they're the perfect sweet bite at the end of a meal, but I'll let you be the judge of that.
Nutmeg wanted to give them a taste. I had a hard time explaining to her why dog's can't eat chocolate.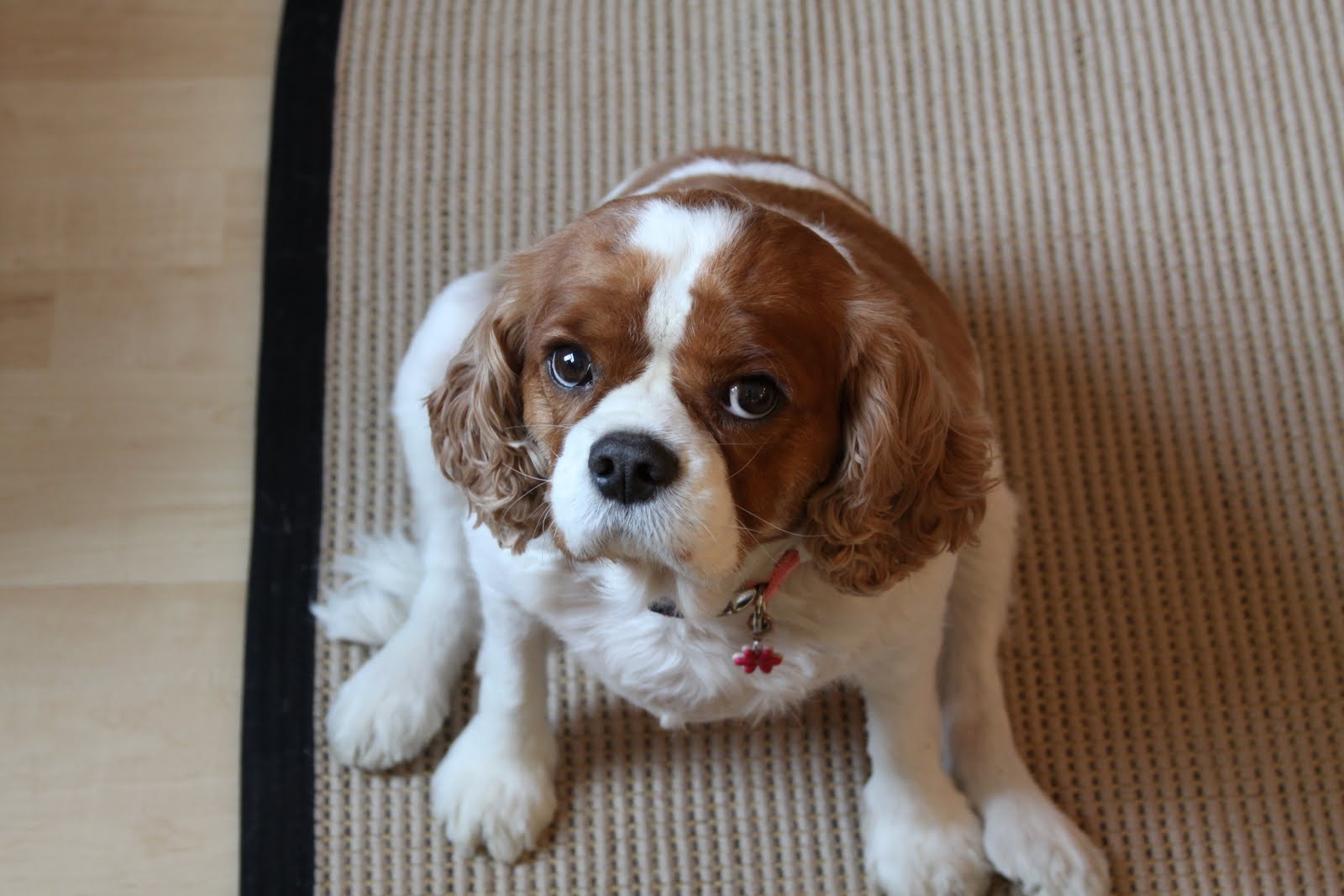 Peanut Butter-Chocolate Chip Cake Balls
Cake Ingredients
Adapted from Cupcakes from the Primrose Bakery
*5 tablespoons butter, softened
*2/3 cup creamy peanut butter
*1 cup firmly-packed brown sugar
*2 large eggs
*1/4 teaspoon kosher salt
*3/4 cup all-purpose flour
*1 teaspoon baking powder
*2/3 cup miniature chocolate chips
To Make Cake:
*Preheat oven to 350°F and line a 12-cup muffin pan with paper liners.
*With an electric mixer, beat butter, peanut butter and brown sugar together until creamy. Add in eggs, one at a time, until incorporated. Add in salt, flour and baking powder and beat until just combined. Stir in chocolate chips by hand.
*Bake for 20 minutes. Cool on wire rack.
Peanut Butter Frosting Ingredients
*1/2 cup creamy peanut butter
*3 tablespoons butter, softened
*1/4 cup milk
*2 cups powdered sugar
Topping Ingredients
*12 oz. milk chocolate
*Sprinkles (optional)
To Make Peanut Butter Frosting:
*With an electric mixer, beat together the peanut butter and butter until creamy. Add in the milk and powdered sugar and beat until creamy.
To Make Peanut Butter-Chocolate Chip Cake Balls
*Place cake in a large bowl and stir with a fork to break up into small, almost even pieces. Mixture should still have some small clumps and cake pieces intact. Allow to cool completely. Add frosting to cake and stir until evenly combined and mixture forms into a dough-like consistency. Form into 1-inch round balls. Chill in the fridge for 30 minutes.
*In a large saucepan, melt chocolate over medium-low heat, stirring frequently. Dip cake balls into melted chocolate; transfer to waxed paper lined baking sheet. Top with sprinkles of choice, if desired.
*Rest until chocolate hardens, or chill in the freezer to speed up the process.
Happy Baking!
Madison