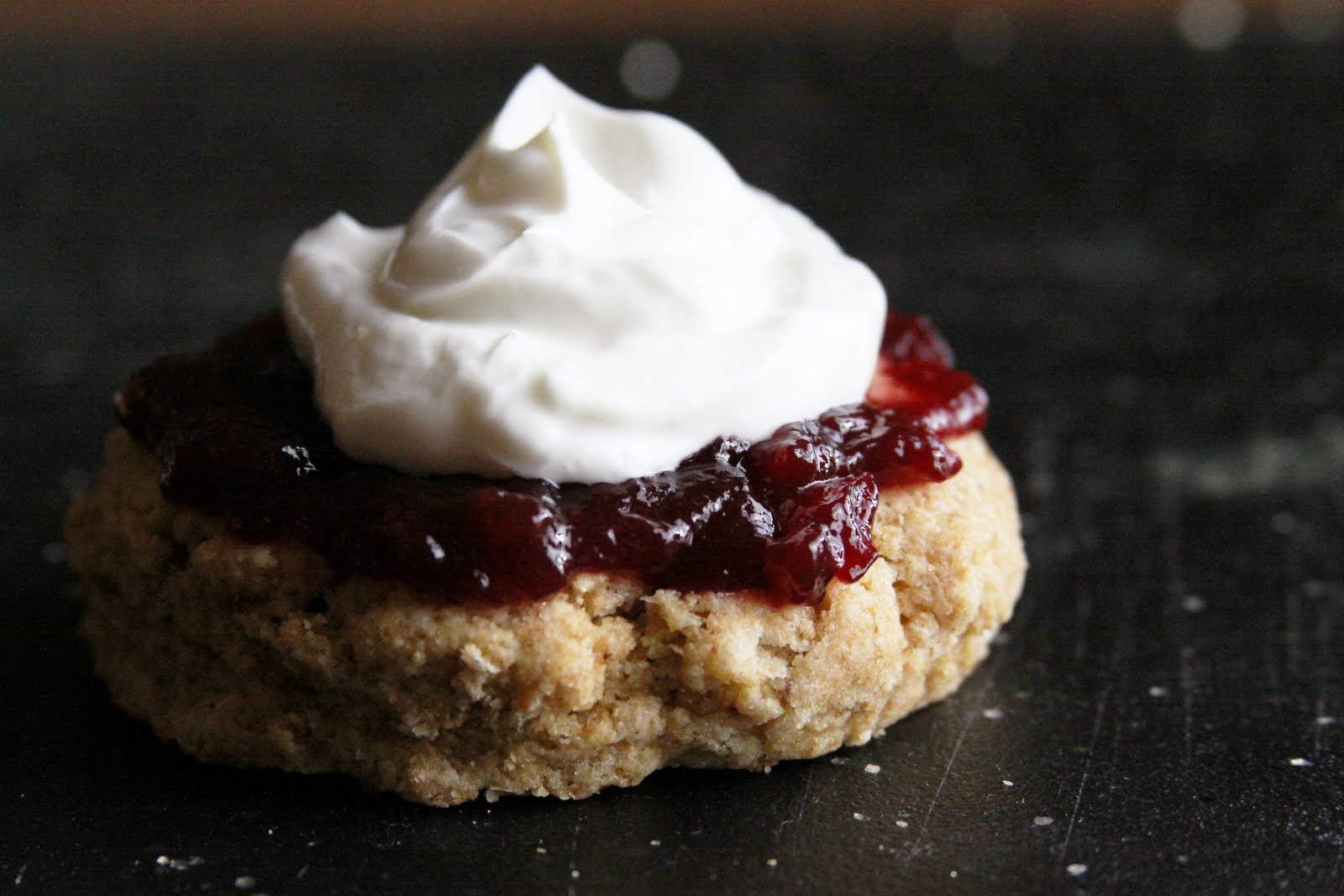 Whew. 
I hope you had a slightly more relaxing weekend than I did and are returning to your schedules refreshed and wide awake. After spending a couple days with Joey and my mom at my apartment, I took off on Saturday, with Nutmeg in tow, for a bridal shower for my best friend up in Minneapolis. It was a whirlwind trip to say the least, but even a few hours with those you love is more than worth the time in the car.
On the kitchen front, I've been baking and eating scones. Over the years, I've made a few scone recipes and eaten even more. Most of those scones have been less than memorable. Dry, crumbly, and unhealthy. 
These scones are different. They're light and fluffy (thanks to a hefty dose of baking powder and soda) despite their stellar whole-wheat nutritional profile. Maybe, for some, they are too light to be considered a true scone, but for breakfast lovers like me, they really hit the spot. Of course, when I get my hands on a jar of sugar-free fruit preserves, I spread the stuff on everything in sight. Scones are no exception. 
Have a scone. And a happy Monday!
Ginger Spice Scones
Ingredients
*1 3/4 cups whole wheat pastry flour (or a combination of 1 cup whole wheat flour and 3/4 cup all-purpose flour)
*1/3 cup granulated sugar
*1 tablespoon baking powder
*1/2 teaspoon baking soda
*1/4 teaspoon kosher salt
*1/2 teaspoon ground cinnamon
*1/4 teaspoon ground ginger
*1/3 cup butter 
*2 large eggs
*1/4 cup milk
*Sugar-free blackberry preserves an Greek yogurt (optional) 
Instructions
*Preheat oven to 375°F. In a large bowl, combine the whole wheat pastry flour, sugar, baking powder, baking soda, salt, cinnamon and ginger. With a pastry blender, blend in the butter until mixture resembles coarse crumbs. 
*In a small bowl, combine eggs and milk. Add wet mixture to dry mixture and stir to combine. Turn onto floured surface and knead a few times until mixture comes together. Roll dough out into 1/2-inch thickness and cut into circles with a round cookie cutter or the top of a glass. 
*Transfer scones to baking sheet and bake for 11 to 13 minutes or until golden brown and slightly crisp around the edges. Cool on wire rack. Serve with blackberry preserves and Greek yogurt, if desired. 
Happy Baking!
Madison