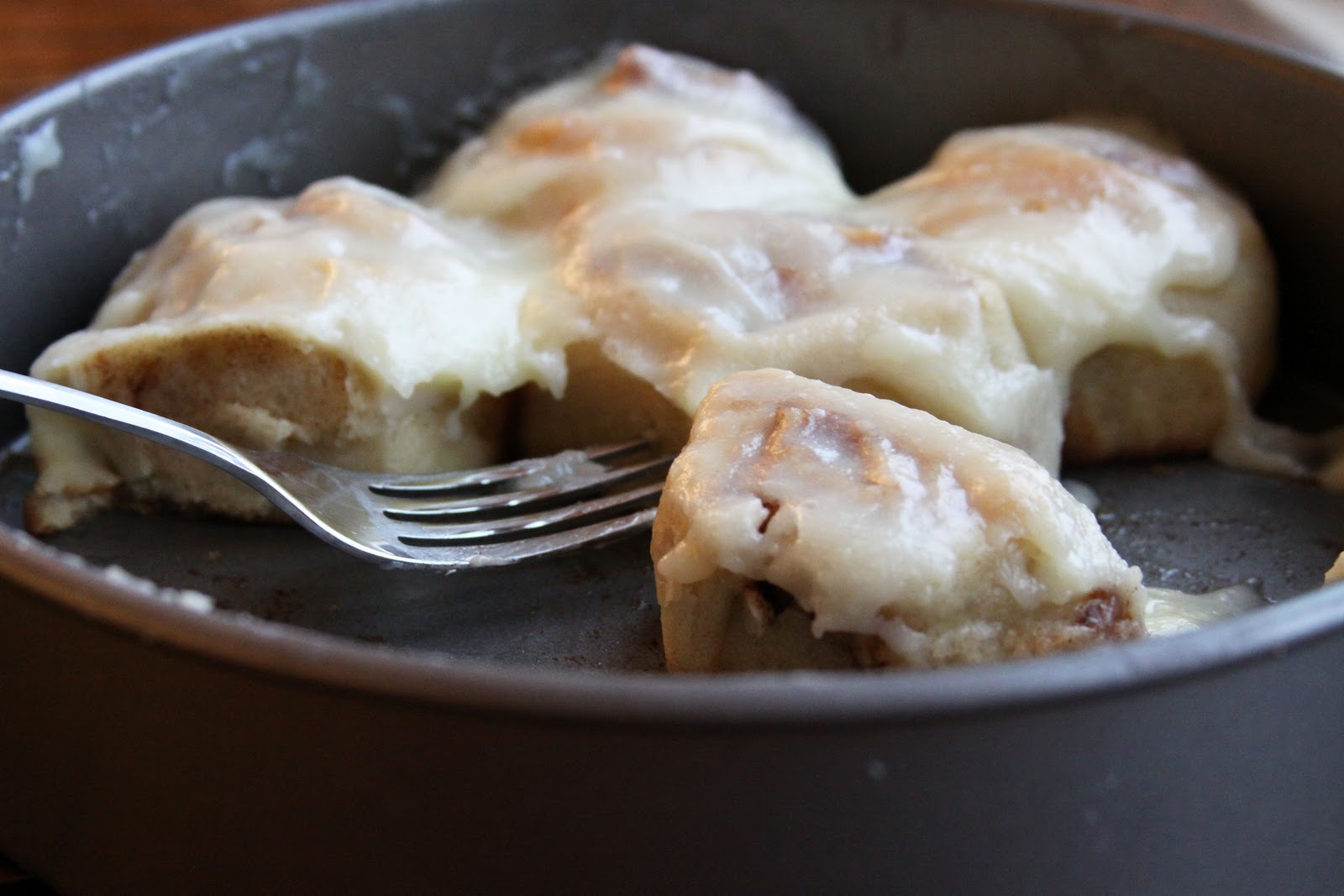 Happy Thanksgiving. Okay, so I'm a few hours ahead of the game, but I wanted to give you this recipe for Eggnog Sweet Rolls, in case you haven't been bombarded with enough recipes to last you a lifetime.
If you're in need of a breakfast on, say, Friday morning before hitting the Black Friday sales, this would be the recipe. I don't care what anyone else says, Black Friday is always a good idea. My mom and I have gone many times over the years, and although we never really have a goal in mind, being part of the craziness is kind of fun.
Or, you could just sit with one of these rolls, curled up by the fire and watch Oprah while thinking about how blessed you are and how much you have to be thankful for: family and friends, a home and a job, delicious food and health. So many blessings to count.
What are you all thankful for?
Have a great one, all!
Eggnog Sweet Rolls
(Printable Recipe)
Ingredients
Rolls
*1 3/4 cups 2% milk
*1/4 cup canola or vegetable oil
*1/2 cup sugar
*2 pkts. active dry yeast 
*3/4 tsp. baking soda
*5 cups all-purpose flour
*2 Tbsp. butter, melted
*1/3 cup sugar
*Ground Cinnamon
Eggnog Icicng 
*4 oz. cream cheese, softened
*1 cup powdered sugar
*2 to 3 Tbsp. eggnog
Instructions
*In a large pot, combine the milk, oil and 1/2 cup sugar. Heat over medium heat until the mixture is very warm but not hot (about 110°F). Remove from heat. Sprinkle the yeast atop the milk mixture at let it sit for 1 minute. Stir to combine.
*Stir in four cups of the flour with a spoon or rubber spatula until wet and dry ingredients are well-combined. Sprinkle the baking soda atop the dough along with the remaining 1 cup of flour. Knead in by hand until the dough is soft, smooth and stretchable.
*Transfer dough to a clean, lightly-oiled bowl. Cover with a towel and let sit for an hour, or until doubled in size.
*Preheat oven to 350°F. 
*Turn out dough onto a lightly floured surface and press by hand into a rectangle (about 15×6-inches).
*Bush dough with the melted butter. Sprinkle with the 1/3 cup sugar and sprinkle generously with ground cinnamon. Roll the dough into a log lengthwise, pinching the seam together to hold it closed. Cut into 2-inch pieces.
*Lightly-grease two 8-inch round cake pans. Place the 2-inch pieces in the cake pans, about an inch apart. Bake for 16 to 20 minutes, until the rolls are lightly golden puffed up. Cool slightly on wire rack.
*Meanwhile, prepare icing. In a bowl, whisk together the cream cheese, powdered sugar and eggnog until smooth. Spoon over warm rolls and consume immediately. 🙂
Happy Baking!
Madison