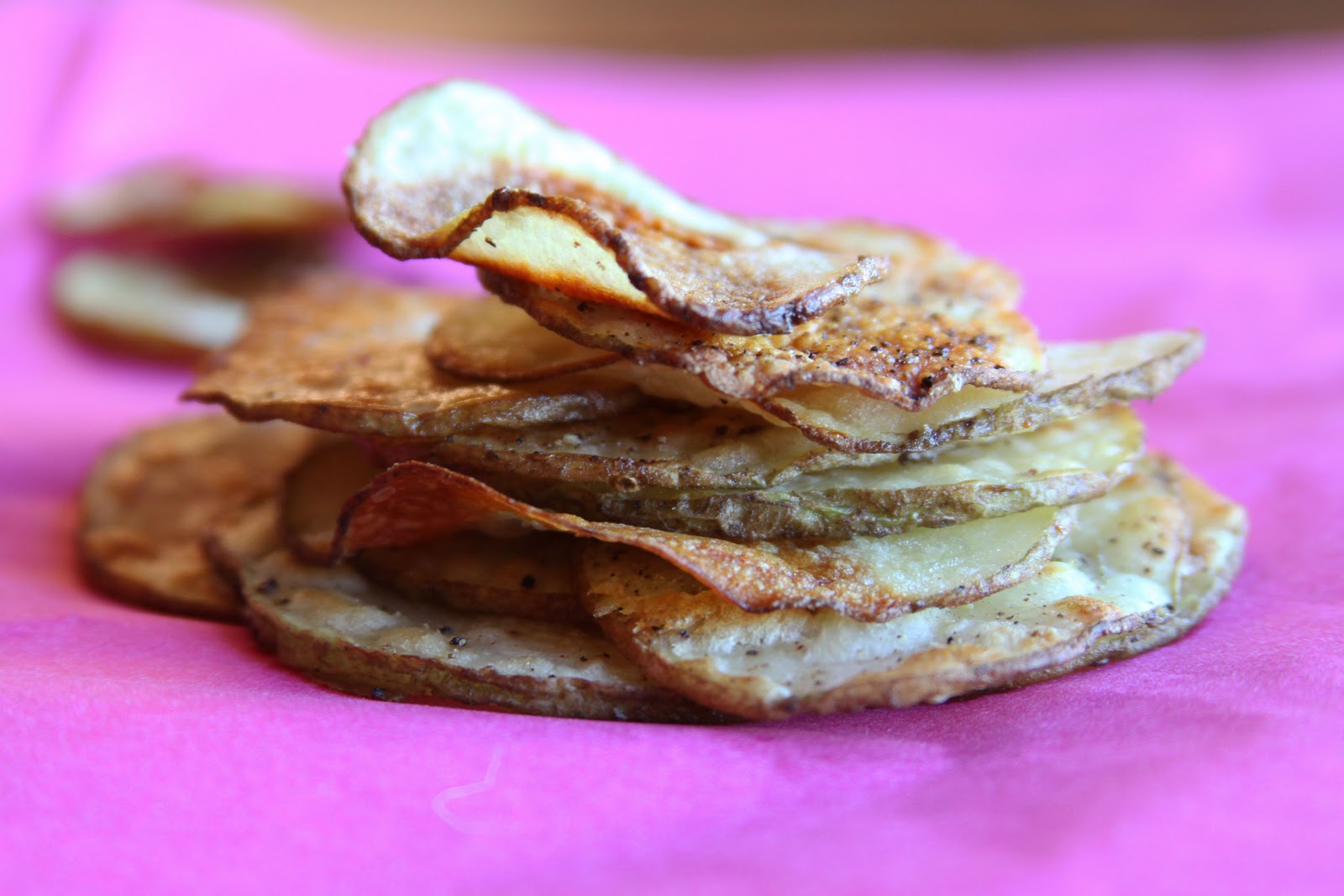 Most of the cooking that goes on in my own kitchen is so simple it's embarrassing. Sure, there's always cooking involved and hardly ever any takeout, but simplicity is the name of the game. So with that notion in mind, Espresso and Cream is going back to basics for the next few weeks. I'll be sharing with you my favorite ways to prepare veggies, simple soups, and other recipes that will make life in the kitchen easier.
If you're someone who needs to multitask at night to get everything done and dinner on the table, then embracing good roasting strategies is the best gift you can give yourself. Frequently I return home from the gym after work, fire up my oven to 400°F, roughly chop some veggies and potatoes and throw them on a baking sheet and let them roast while I shower, fold laundry, clean, etc. Before I know it, dinner is ready and my hands-on time was minimal. 
These Roasted Potato Chips make an appearance at my table at least once a week, made either with russet potatoes (as shown) or sweet potatoes, and satisfy my craving for something undeniably unhealthy in a healthy way — without leaving me sluggish and weighed down afterward. Does it get any better than that?
Roasted Potato Chips
Make sure to give the pan a good coating before laying the potatoes down on the baking sheet to prevent sticking, then another quick spray on top of the potatoes before popping them in the oven. For best results, your potatoes should be thinly sliced into discs of even thickness. As you can see in the photo, mine weren't exactly evenly sliced, giving me some extra crispy potatoes and some slightly softer. Either way, they were delicious. 
Ingredients
*2 medium russet potatoes, washed with skin on
*Nonstick cooking spray
*1/2 tsp. kosher salt
*1/4 tsp. black pepper
Ketchup (optional)
Instructions
*Preheat oven to 400°F. Grease a large baking sheet with nonstick cooking spray. Set aside. 
*With a knife of mandolin, thinly slice potatoes into discs. Place discs in an even layer on baking sheet. Sprinkle with salt and pepper, then coat the potatoes with an even layer of cooking spray.
*Roast potatoes in the oven for 12 to 16 minutes (depending on the thickness of your slices), turning once halfway through baking. Cook until potatoes are golden brown and slightly crispy around the edges. Serve with ketchup, if desired.
Happy Cooking!
Madison