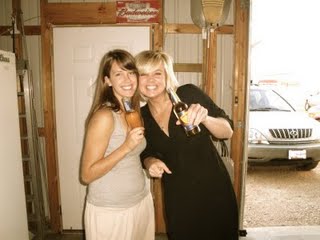 Today marks my last "first day" of classes….ever! I can hardly believe that my last semester of college is here. As a way to celebrate the last weekend of summer, I made a trip up to Minnesota to visit my best friend and have a relaxing weekend of good food, shopping, and catching up before classes.
Unfortunately, I forgot to take pictures of many of the great things we ate this weekend! I'm still growing accustomed to the idea of taking pictures of my food BEFORE I dig in. Usually I'm so excited about what's in front of me that photographing my food goes to the bottom of my to-do list.
Every time I am up in Minnesota, I make a point to eat at least one lunch at D'Amico and Sons, since they only have locations in Minnesota and one in Naples, Florida. If you ever have a chance to eat lunch there, I would highly recommend it! I had a salad sampler plate with the "Fresh Vegetable, Mozzarella, and Romesco" and "Salmon and Shirmp" salads. Delish!
Another food highlight was the Hornsby's Hard Cider. I usually don't care for beer, but this drink was great! Emily and I had one outside while waiting for the barbecue to finish. It was a great way to beat the heat and tide us over until dinner was ready.
Off to class, once again!
Happy cooking,
Madison