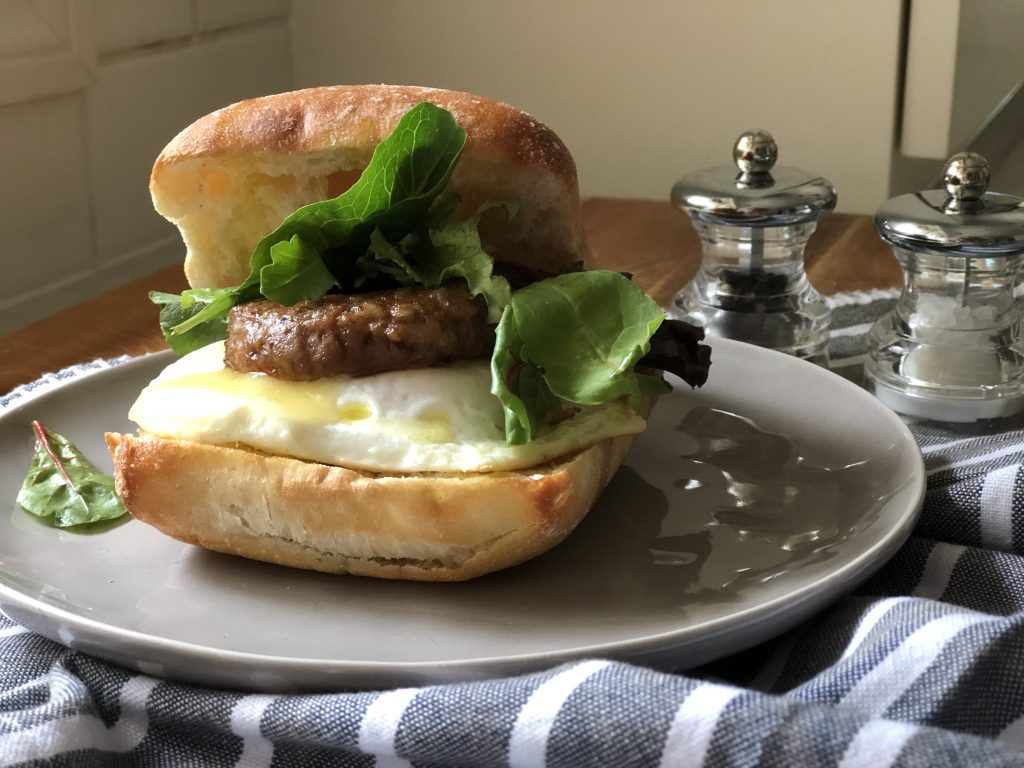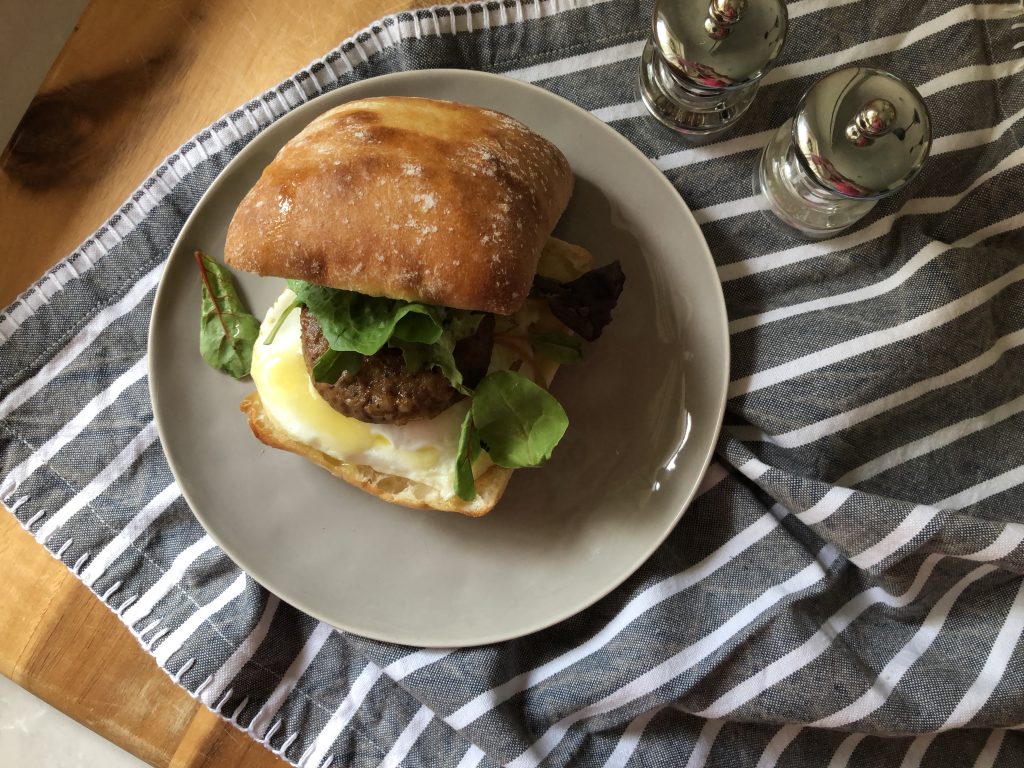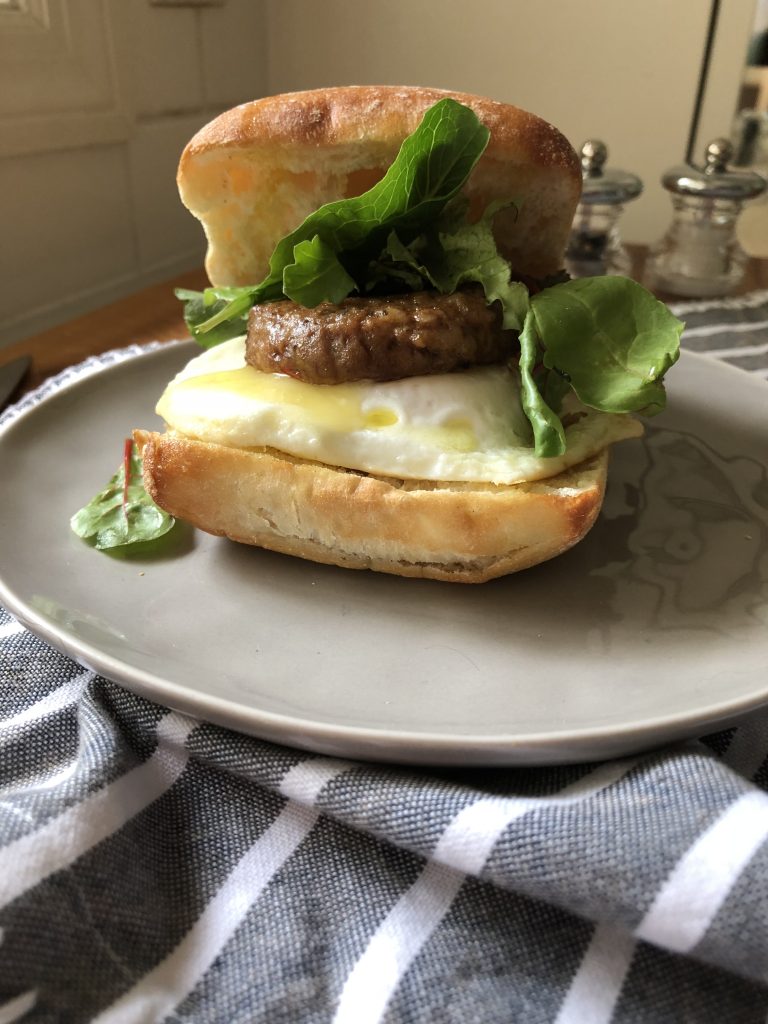 This post is sponsored by Tyson as part of the #JimmyDeanSausage campaign. All opinions are my own and I so appreciate you supporting the brands that make Espresso and Cream possible. 
Breakfast has always been my favorite meal of the day as an adult. Perhaps because it's accompanied by lots of coffee with half and half, or because these is a level of comfort and ease around our breakfast table that doesn't exist other times of the day. I wish I could say I loved dinnertime as much as breakfast, but my early-rising kids are in a much better mood first thing in the morning than when 5 pm rolls around, and most dinners are spent bouncing a fussy baby and bribing a toddler to eat a bite of everything on her plate. A struggle that doesn't usually exist at breakfast.
Joe works out at the gym and eats his breakfast on the road most weekday mornings, but Thursday mornings when Joe is home a little longer than usual, I make a little extra effort to make breakfast special. We're not talking elaborate and time-consuming – just something savory and hot like eggs with toast and bacon or sausage (Joe and Ainsley's favorite).
Like I mentioned above, Joe and Ainsley both love sausage so when an opportunity to work with Jimmy Dean Fully-Cooked Sausage came across my desk, I really had no choice but to accept! We've purchased Jimmy Dean Fully-Cooked Sausage from the refrigerated section many times on our weekly grocery trips to Walmart; I love that the patties only require quick heating through and are sealed in smaller sub-pouches in the box. For a family like ours, who only has hot breakfast together a few times per week, this cuts down on food waste – something I can fully get behind.
This week's breakfast went above and beyond our usual scrambled eggs, sausage and toast, because who doesn't love a good restaurant-style breakfast sandwich? Toasted Ciabatta buns filled with sunny-side-up eggs, sharp white cheddar cheese, sausage, and fresh mixed greens. Because I had to get some greens in there. It's a compulsion. I just can't be helped. In full disclosure: Ainsley didn't eat the greens because, "I don't like that salad!" But we're working on it. 😉

Sausage, Egg & Cheese Breakfast Sandwiches
Author:
Espresso and Cream
Ingredients
4 Ciabatta rolls, halved lengthwise
2 tablespoons olive oil
Salt and ground black pepper
1 tablespoon butter
4 large eggs
2 oz. sharp white cheddar cheese, shaved
4 Jimmy Dean Fully-Cooked Sausage Patties
1 cup mixed greens
Instructions
Heat oven to 375°F. Line a large baking sheet with aluminum foil. Arrange rolls, cut side up, on baking sheet. Drizzle with the olive oil and sprinkle with salt and ground black pepper. Set aside.
In a large skillet over medium high heat, melt butter. Crack eggs into the skillet one at a time. Sprinkle with the salt and black pepper. Cook about 3 minutes, until whites are set and yolks are still runny. Place one egg on bottom half of each of the four rolls. Top each with some of the cheese. Prepare sausage patties according to package directions. Place one sausage patty on top of egg and cheese. Bake 5 minutes to toast rolls slightly and melt cheese.
Remove from oven and top with some of the mixed greens. Top with roll top and serve immediately.