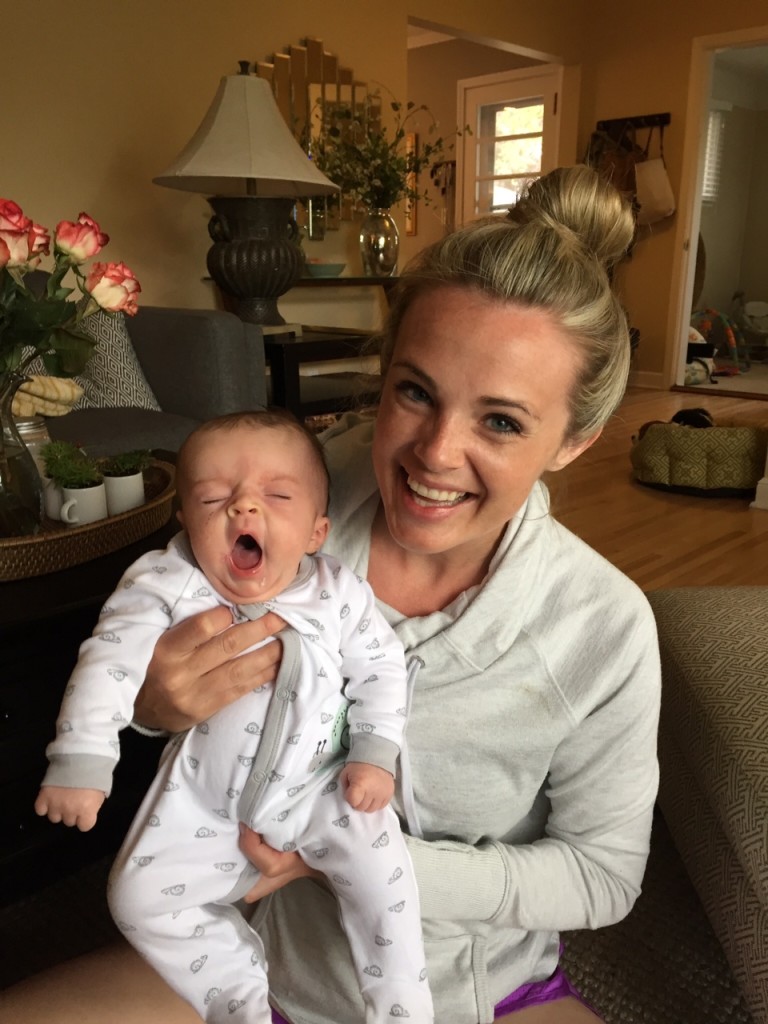 This year I celebrated Mother's Day for the first time on the "other side of the fence" if you will. I've spent 27 years celebrating my mother, step mom, grandmothers and aunts who have been like mothers to me, but getting to enjoy this holiday actually being a mom myself felt extra special and had me all sorts of sappy and sentimental.
Although the day has come and gone, I couldn't miss the opportunity to reflect a little bit on what being a mother has been like these first few months. I'm already finding the first few weeks with a newborn to be hazy in my mind, and I have a feeling that before long these early months will be just a fuzzy memory as well. It makes me sad to see my little peanut growing up so quickly, but as someone who wouldn't consider the newborn days "my thing" I'm also very thankful that she is getting bigger. My husband and I say every single day that Ainsley is more fun than she was the day before. It really is true that life just keeps on getting better.
But those first few weeks? Man, those weeks were hard. I lacked the perspective to see how fleeting they were, despite the fact that everyone told me they would go quickly. I thought I would be waking up every two or three hours for the rest of my life and that I would never get a solid stretch of sleep, and sometimes I still wonder if my little one will ever sleep the magical "8 hours" in a row. Even now I lack the perspective to understand and realize that the baby stage doesn't last forever, even though I've told myself a thousand times.  But is there anything sweeter than being the one that can silence cries and soothe tears and fussy tummies? Is there anything better than when you feed your baby a bottle and they hold on to your finger with their little clenched fists? Or the adorable way they look when they're sucking on a paci in their car seat? For some reason that gets me every single time.
Before Ainsley was even conceived, when I was still scared, sad and doubtful that I would ever become a parent, I had a dream. In my dream I saw a sweet baby girl that was all mine to have and to hold. She was chubby, cute and had plenty of dark hair and the sweetest little rosy complexion. I woke that morning and sobbed to Joe when I realized that baby was just a dream because it felt SO real and it hurt to wake from that dream. But that vision stuck with me, and I knew that some day that little baby would come and join our family. In fact, it was the reason I believed Ainsley was a baby girl from the moment I took that pregnancy test, so much so that I started calling her Ainsley five weeks into the pregnancy. I was certain it couldn't be any other way.
Motherhood has been far more difficult that I ever imagined. I never thought it would be easy, but I was entirely unprepared for the challenges it would bring. There are good days and difficult ones, days when I think I can hardly go on without more sleep than I'm currently surviving on, days when I think I've dropped the ball as a mother, moments when I look back and wish I had handled the situation or the crying with a little bit more patience. Sometimes I have to take a moment and re-start my day with a different attitude because, just like my baby, I woke up on the wrong side of the bed with much less perspective than I need to tackle what the day has in store.
But it seems like each really difficult day is followed by a day that is equally wonderful, filled with smiles and coos and new baby developments, when I feel like I've really got this mommahood thing down and we're really hitting our groove. And is there really anything better than going to pick up your baby after a nap only to be greeted with a huge, gummy smile? I don't think so.
So thank you, Ainsley, for making me a mom and for making this year's Mother's Day so sweet. Most days I don't feel equipped to be a mom, but I certainly feel equipped to be YOUR mom, if that makes any sense. You are my one and only precious baby girl, the child we so longed and prayed for, the one who made all our dreams come true. We love you more than you'll ever know!
Madison