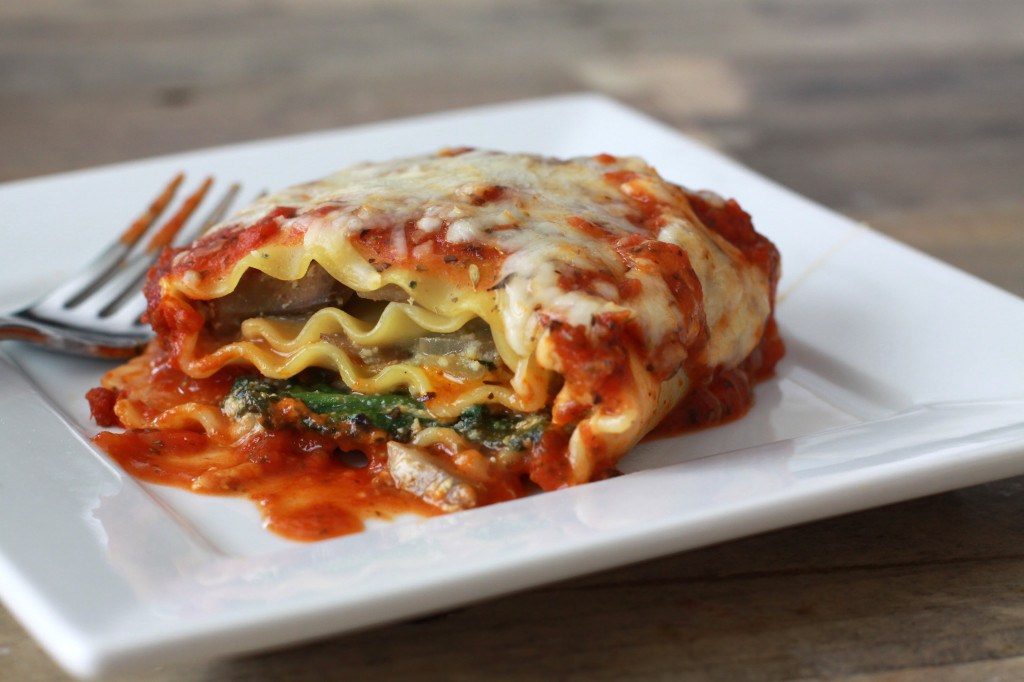 Hello, hello! I wish I could tell you that we were settled into our new home and cooking amazing meals like the Rolled Spinach and Mushroom Lasagna you see pictured above. Unfortunately, we are still very unsettled, waiting for our stuff to arrive on Saturday while we make do with paper plates, plastic forks and foods that can be prepared in the microwave.
I'm trying desperately to enjoy this time of craziness and this fun but unsettled time, but starting a new job and living like nomads while painting at night makes for some exhausting times, indeed. The good news? Our jobs are both going really well! I've only been at it for two days now, but I can already tell that I'm going to love it.
Thankfully, my time off allowed me plenty of time to create new recipes and play around in the kitchen. One of the things I had been dying to try was a slightly easier lasagna done roll-style, which makes a smaller pan of lasagna compared to the traditional style done in a 13×9-inch pan. It was an incredibly fun recipe to make and was pleasing to both me and Joe.
One of the questions I get most frequently is about how I manage to make meals that please me, the vegetarian, and my meat-eating hubby. When we first got married, it took a little while to get the routine down, but with a little practice and careful recipe selection, it's not all that much more work than making a single dish that is either vegetarian or contains meat.
The key is to start with a dish that is already vegetarian, like this lasagna with spinach and mushrooms, and then add in the meat to a portion of the dish. It's always easier to add meat to the recipe rather than to take meat away from an already established method. In this case, I added a little bit of chopped pepperoni to the sauce in Joe's half of the dish for an extra salty bite and kick.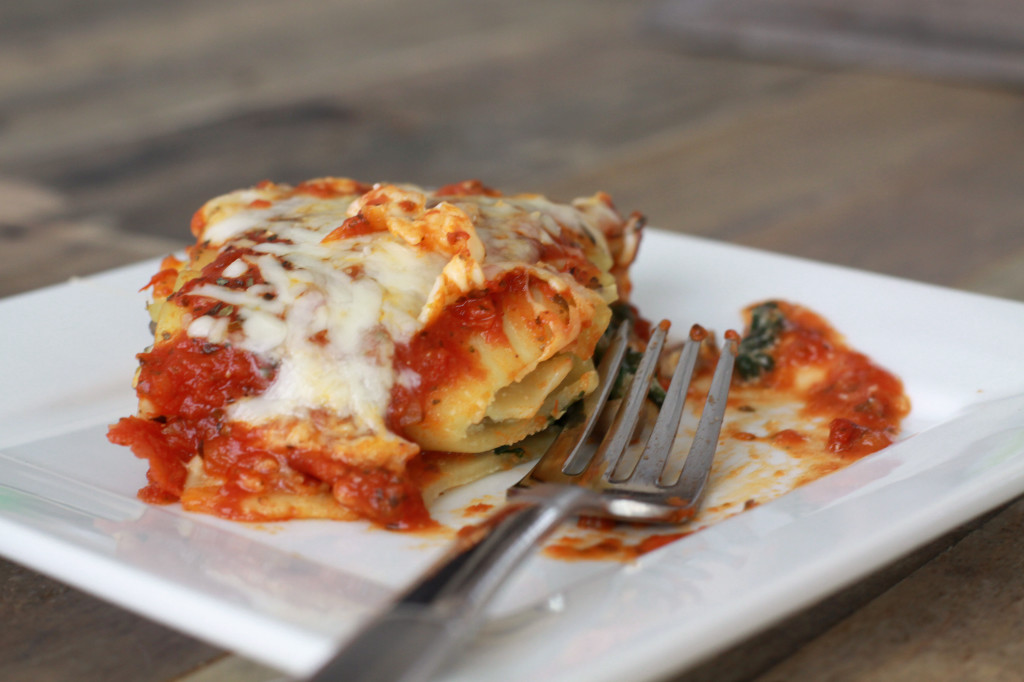 Rolled Spinach and Mushroom Lasagna (with chopped pepperoni for husbands)
Recipe from Cooking Light can be found HERE 
*I added 1/2 cup chopped pepperoni to the sauce on Joe's half of the dish
*It also should be noted that I did NOT microwave the dish as specified in the original instructions. Instead, I baked in a 375 F oven for 25 minutes, broiling during the last three minutes to get the cheese nice and golden brown.
 Happy Cooking! I promise to be back soon when I get a chance to take a breather.
Madison