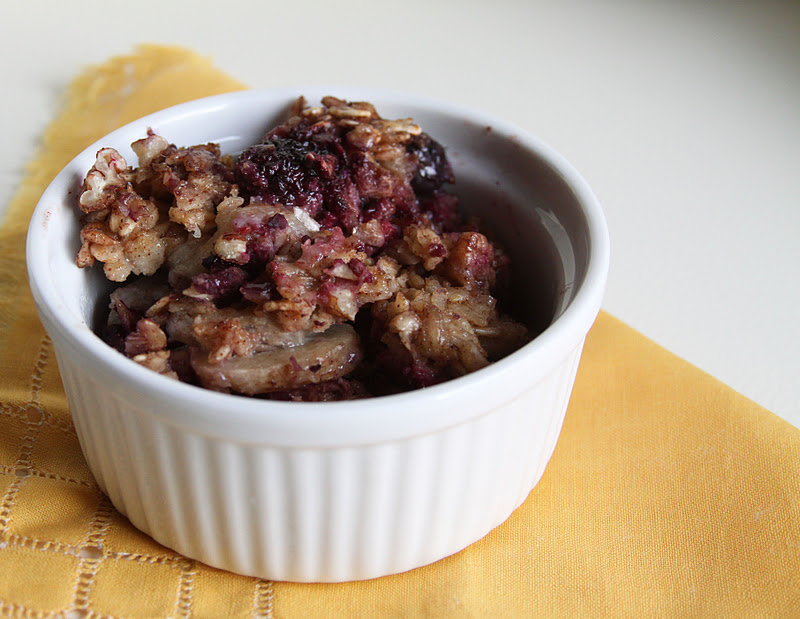 Since I'm guessing by now most of you have your Thanksgiving meal planned and your recipes selected, I thought it might be helpful to shift gears a bit. Chances are that during the next month you will probably have guests staying at your house overnight, or perhaps you are planning on hosting a brunch in the days leading up to Thanksgiving or Christmas.
For me, this type of situation has always proved to be a little tricky. The most common large-group breakfast and brunch dishes seem to be sugar-laden pastries, coffee cakes and greasy egg bakes. Not that there is anything wrong with that, I just prefer to start off the morning with something a little healthier.
I have no idea why it took me so long to get on the baked oatmeal bandwagon, but I'm so glad finally took the plunge. When Heidi's recipe for baked oatmeal started making its way around the internet, I was intrigued. But it wasn't until last night that I gathered up my ingredients and fired up the oven.
Although the original recipe calls for fresh berries, I used thawed, frozen berries since I wasn't about to pay an arm and a leg for fresh this time of year. I also baked the oatmeal in a 9×13-inch pan instead of an 8×8 and upped the number of bananas used, since the baked bananas are the best part of this recipe. Heidi's original recipe also calls for three tablespoons of butter, an ingredient I left out without any issue.
This dish left our house with the most heavenly aroma while it was baking and had us drooling when we pulled it out of the oven. I couldn't help but sneak a small bowl for dessert last night, and helped myself to more for breakfast this morning. While it still tasted good the next day, I would highly recommend baking it the morning you plan to serve it, since that's when the flavor and texture is pure perfection.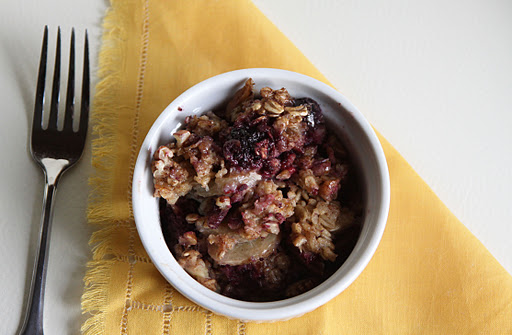 Baked Oatmeal
Recipe slightly adapted from 101 Cookbooks 
Ingredients
*2 cups rolled oats
*1/2 cup pecan pieces, toasted and chopped
*1/3 cup natural cane sugar
*1 teaspoon aluminum-free baking powder
*1 1/2 teaspoons ground cinnamon
*1/4 teaspoon fine sea salt
*2 cups milk (I used 2%)
*1 large egg
*2 teaspoons vanilla extract
*3 ripe bananas cut into 1/2-inch pieces
*1 1/2 cups frozen mixed berries (blackberries, blueberries and raspberries), thawed
Instructions
*Preheat oven to 375°F. Lightly grease a 9×13-inch baking pan with butter or nonstick cooking spray. Set aside.
*In a large bowl, combine the oats, 1/2 of the pecans, sugar, baking powder, cinnamon and salt. Set aside.
*In a second bowl, combine the milk, egg and vanilla. Stir until well combined. Set aside.
*Line the bottom of the prepared baking pan with the bananas in a single layer covering the entire bottom of the pan. Sprinkle with 3/4 cup of the thawed berries. Sprinkle the oats mixture evenly over the bananas and berries in the pan. Evenly pour the milk and egg mixture atop the oat layer. Give the baking pan a couple shakes to evenly distribute the milk mixture through the oats. Top with the remaining berries and pecans. Sprinkle with a little additional cane sugar, if desired.
*Bake for 40 to 45 minutes, or until the edges are slightly bubbly and oatmeal looks set. The mixture will still be slightly moist but should feel 'set up' when you touch with your finger. Cool for 5 minutes on a wire rack before serving. Makes 6 servings or 12 servings as part of a larger brunch spread.
Approximate calories for 6 servings: 332 calories, 11 g fat (2 g sat. fat) , 314 mg sodium, 50 g carbohydrates, 9.6 g protein.  
Happy Baking!
Madison